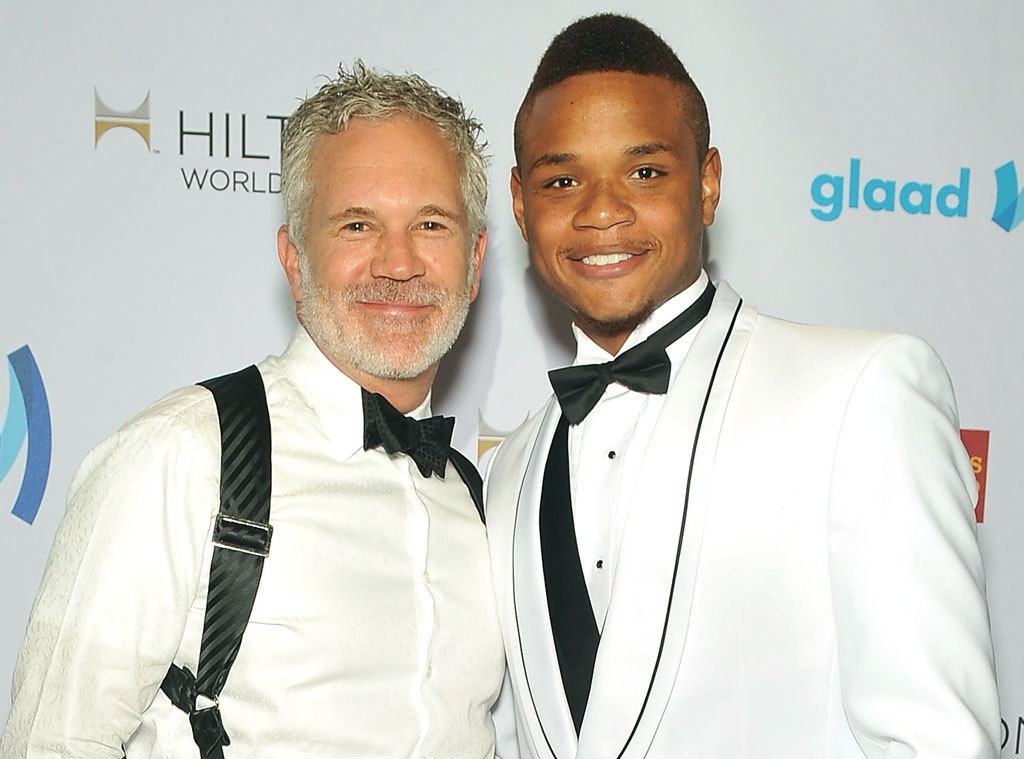 D Dipasupil/Getty Images for GLAAD
Age is but a number, especially when it comes to romance.
Derrick Gordon, a basketball player at the University of Massachusetts athlete who upon coming out last month became the first openly gay NCAA Divison I athlete, is dating actor Gerald McCullouch, who is 25 years his senior.
The couple were all smiles attending the 2014 GLAAD Awards over the weekend, with Gordon looking smart in a white tuxedo jacket and McCullouch skipping his jacket altogether on the red carpet.
So, how did these two fellows meet?
McCullouch, 47, tells E! News that they first connected via Twitter a few years ago after Gordon saw McCullouch in the indie film BearCity, about a tight-knit pack of gay friends navigating life and love in New York.
"Through the years I've encouraged him to lead an authentic life and tried my best to offer as much objective support as possible," says the former CSI actor, who recently wrapped production on Daddy, his feature directorial debut, which he also stars in. The film just so happens to be about a fortysomething man who falls for a much younger guy.
"It was a scary time for him," McCullouch recalls, "and I tried my best to assure him that self-acceptance wasn't anything to be ashamed of and I strongly suggested he find a support team at UMass."
Ultimately, Gordon heeded that advice and chose to come out to his teammates in late March/early April. He told ESPN in a subsequent interview that being out in the open was "an indescribable feeling."
McCullouch says that he and Gordon finally met in person last month, after the athlete had come out to his family.
"There is certainly a spark between Derrick and me," the actor says. "I'm very proud of him and think he's an engaging, courageous, and handsome young man."
"22 years old now...4 years ago I wouldnt have never imagine my life changing so much and being at the GLAAD AWARDS...IM TRULY BLESSED!!!!" Gordon happily tweeted after the event Sunday.