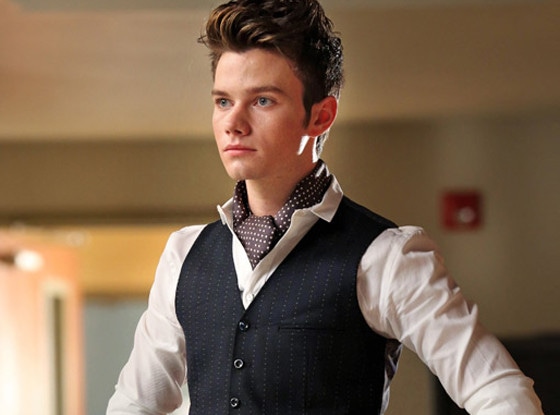 FOX
Let's cut to the chase: You love TV, and we love dishing out TV spoilers. It's a match made in small screen heaven!
Today, we've got exclusive scoop from one of Glee's most beloved actors and he's passing out exclusive details from this week's one-of-a-kind episode. For all you Supernatural fans out there, we've got an update Misha Collins will be reuniting with our favorite monster-fighting brothers, plus we're checking in on the status of one of Orphan Black's hottest couples.
Oh, and brace yourselves because we've got the latest Parks and Rec's roll call and you won't believe who's coming back for season seven. All that and so much more in today's edition of Spoiler Chat!
Matilda: I cannot begin to tell you how excited I am for Chris Colfer's Glee episode. Got any scoop on that?
Why yes—yes we do! In fact, we just got off the phone with the one-and-only Chris Colfer and he filled us in on all the goods. "The main storyline is about Kurt. He's really one of the only ones left in the group who hasn't really made a name for himself yet, and he's feeling very down about that. So he's looking for something to supply him with that validation," the actor-turned-Glee-writer exclusively told us. "He finds it when he meets this woman named Maggie who lives at an assisted living home, and he ends up joining that assisted living home's production of Peter Pan." Fingers crossed we'll be seeing Kurt in bright green tights this Tuesday!
Dan: I'm probably one of the few people who likes Billy Eichner's character on Parks and Rec. Whatever, don't hate. Is he coming back next year? He wasn't in the flash forward and I must know!
Was that your best Craig impersonation? Because kudos. We took the question straight to Billy Eichner at the 2014 American Comedy Awards. "I believe I'm coming back, yes," Eichner told us. And he has some ideas for Craig in the future. "I'm excited to see what the writers come up with. They're so smart. We'll see, maybe we'll fast forward and Craig will have taken some Xanax and come down to earth a little bit." We think that's unlikely, but…"I just want to see him married to a lovely woman with kids…just kidding!…I'd like to flesh him out a little bit. He kind of came on as a bit of a novelty almost, not knowing that he would be sticking around so long. He's a very polarizing character, which I kind of love, and we'll see. I'd like him to get fleshed out and figure out where he came from and figure out why he is the way he is."
Beth: In dire need of some Supernatural scoop on Castiel!  I feel like I have not gotten enough time with my favorite angel this season!
Well, then you'll love what's ahead! Castiel's role in the final episodes of the season "is really important," supervising producer Andrew Dabb previews. "He is part of the mythology as he has been in seasons past for us. He plays big in the last…episodes." But what about Season 10?! "As far as next season goes, look, we love Misha [Collins]. Misha's awesome. I have a hard time imagining the show without him."
Ashley: I love Cosima and Delphine from Orphan Black so much! What's coming up for their relationship?
Take it away, co-creator Graeme Mason! "I love Cophine too, but that relationship's gonna remain on thin ice," the showrunner exclusively revealed to us, "Their hearts are wrapped up in it, there's no denying that. I don't think Tatiana Maslany or Evelyn Brochu believe that their characters' hearts aren't in this, but there's large forces at play. Delphine's not above a power play, and Delphine has to learn to play dirty." What do you think about that, Cophine lovers?
Cecilia: Give me Sleepy Hollow! Now! 
Ok, but you could be nicer about it! In episode two, we'll meet a new tall, muscular guy who's great at sword-fighting, stunts, and horseback riding. Can you say third horseman of the apocalypse? Do you think it will be Conquest or Famine? Have you ever been so excited about a dude on a horse?! (We love this show.)
Barbara: Obsessed with The Mindy Project and will take anything I can get on the finale!
Five finale teases comin' right up:  You will see Danny in his boxers. Mindy will cut her hair again (but there's a twist). Bradley Cooper's feelings will probably be hurt if he watches the episode. There's an epic music cue featuring a Bruce Springsteen song. There is a surprise appearance by a co-star of a recent guest star from a hit AMC series.
Vicky: Any scoop on the New Girl finale? I won't lie: I really want to see Nick and Jess get back together!
Prepare to feel conflicted because Nick and Jess are oh-so-adorable in the finale, proving they are totally TV's best exes. But what happens if old feelings start to resurface (and some licking goes down!) and the duo can't handle being just friends? Friend-ervention time, which leads to a major change in the loft when the gang returns to land after their time on a cruise ship.