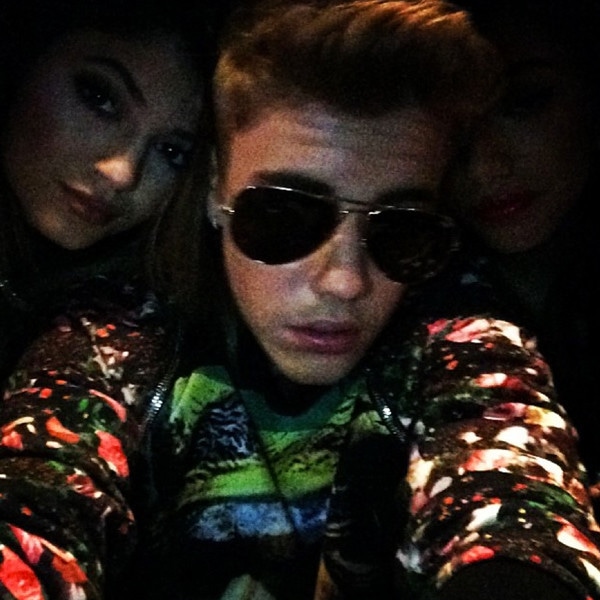 Instagram
It looks like Justin Bieber and Kylie Jenner had a blast on fight night in Las Vegas.
After cheering on the Biebs' pal Floyd Mayweather as the boxer fought and later defeated Marcos Maidana Saturday night, the duo posed for a selfie, which Bieber posted on Instagram Saturday night.
In the shot, the "Confident" crooner rocks shades and holds the camera while Jenner appears in the background.
Although the Keeping Up With the Kardashians star didn't post any shots with Bieber over the weekend, Kylie did post a shot of herself before the fight began, which showed her sitting down in a lace mini dress, with the caption, "Mayweather."
A source told E! News the duo also hung out together inside of the Hard Rock Hotel.
The latest sighting of Justin and the E! star comes after rumors surfaced that his ex-Selena Gomez cut ties with Kylie and her sister Kendall Jenner after they were spotted hanging out at Coachella a few weekends ago.
A source later told E! News that whatever the trio's issues may have been at the time, they had put it behind them, adding "all is good now." Selena did get jealous when Kylie and Justin got "flirty" with each other, the source added, but she and Kylie were "fine" after that, saying, "Selena has no issues with Kylie whatsoever."
The "Come & Get It" songstress has yet to comment about the duo's night out, instead posting a collage of John Legend and Chrissy Teigen in the video for "All of Me.
"Them is EVERYTHING tho. Allofme," Selena captioned the shot Sunday.
-Additional reporting by Sara Kitnick