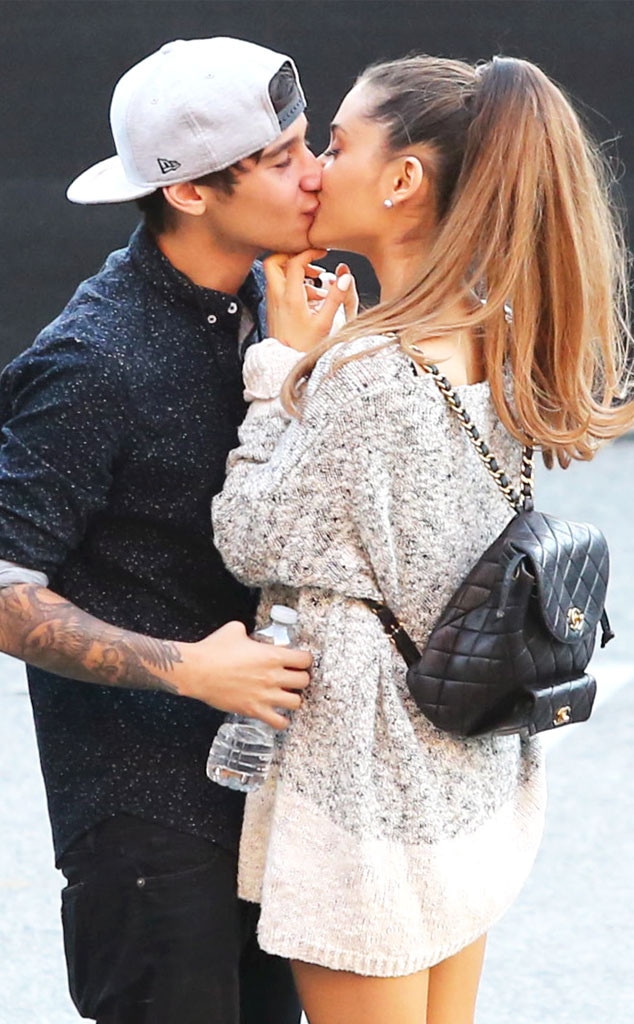 Nic/X17online.com
That doesn't look like a friendly kiss!
Unbeknownst to them, X17 photographed Ariana Grande and Jai Brooks kissing backstage at the iHeartRadio Music Awards in L.A. Thursday. The famous exes, who broke up in July 2013 after 11 months of dating, threw caution to the wind as they shared a sexy smooth at the star-studded event.
Earlier that night, Grande, 20, performed her debut single, "The Way," and her current hit, "Problem." Could her new jam be about Brooks? When Grande recently spoke to E! News, she dropped a few hints. "I do like guys with tattoos. I like guys who can make me laugh. I like funny boys. I like a bad boy," she said.
(After breaking up with Brooks, Grande dated The Wanted's Nathan Sykes for five months.)
While the singer lost the Best Fan Army award Thursday, Grande did win the Young Influencer award.
"This is incredible. Thank you so much. Oh my god, my heart is beating so fast," Grande told the crowd. "This is such an honor and I'm so grateful. Thank you to my fans for always supporting me, and loving me endlessly, and making me feel so happy, and being here for me when I'm not happy, and giving me strength to keep going and everything. I love you guys so much, so thank you guys for supporting me."
"Thank you to iHeartRadio for playing my music and supporting me. This is a dream come true," added Grande, who geeked out meeting presenter Hilary Duff. "I'm so excited. And thank you for having me and letting me sing my song this has been amazing day. I love you guys so much. This is amazing."