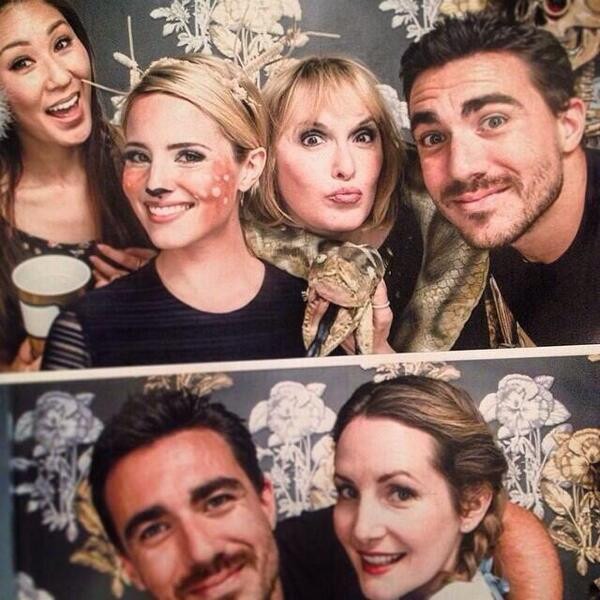 Twitter
Leave it to Dianna Agron to celebrate her birthday in the most adorable way.
The Glee star rang in the big 2-8 with a number of pals, including former Gossip Girl star Jessica Szohr, with a D-themed bash (in honor of her first name) during which guests came dressed up as a daiquiri, Dorothy from Oz and Double Ds.
As for Dianna? She sported the cutest deer costume we've ever seen, rocking antlers and face makeup with her blond hair pulled back in a bun.
The 28-year-old beauty was all smiles as she posed for pics with pals, clearly enjoying her time at the fun-filled bash.
And there was no shortage of birthday wishes for the B-day babe, who received a number of tweets from friends and fellow Glee castmates.
Lea Michele: "Happy Birthday to my girl @DiannaAgron! One of the most beautiful people I know!!!"
Olivia Wilde: "Happy birthday @DiannaAgron you gorgeous, hilarious woman!"
Jenna Ushkowitz: "Happy birthday to the beautiful, charming @DiannaAgron . Love you my little bunny. ❤️"
Chord Overstreet: "Happy bday to the very sweet @DiannaAgron! Love ya girl"
Harry Shum Jr.: "To conclude the April birthdays, Happy Birthday to one of my favorite people @DiannaAgron"
Ashley Fink: "Awwww!!! Happy, happy, happy, birfday @DiannaAgron!!!! The kindest of the kind. Love you forever and ever."
Amber Riley: "We can not talk 4 days or weeks and then BAM we talk for hours as if we were never apart! [love] u and a very happy unbirthday @DiannaAgron"
And clearly, Agron was taken aback by all the love, posting on Twitter to thank her fans and friends for the well wishes.
"Overwhelmed. What love. I am pretty speechless. Have to say. This is one of my best birthdays to date. And the day is only halfway done!" she wrote.
Glad it was a special one, girl!