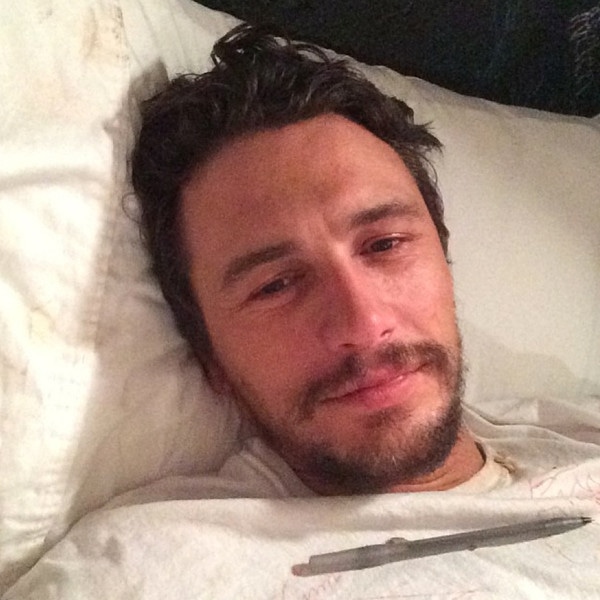 Instagram
James Franco wants to clear the air.
Nearly a month after the 36-year-old actor tried—and failed—to pick up a 17-year-old girl via Instagram, the Of Mice and Men star opened up about the infamous incident on SiriusXM's Howard Stern Show Wednesday. "Seventeen is legal in New York, but that being said, it's still pretty damn young," Franco said. "They make it out like I'm pursuing young women. I'm not going to high schools looking for dates. I'm leaving my work and they're coming there. So, I'm seeing attractive women."
Franco said his fans are typically between 17 and 30 years old. The movie star then explained what happened with Lucy Clode, the tourist who posted screenshots of their private conversations online.
"I saw her and she said on her page, 'I love James Franco! Blahblahblah. 'Well, OK, you look interesting. I don't know how old you are," he recalled. "I was a gentleman. I said, 'Do you have a boyfriend?' And her response was, 'Not when you're around.' So that to me sounds like, OK, she's interested."
Franco took a beating in the press, so he was hesitant to say much more. Still, he took the opportunity to stand up for Clode, who was visiting New York City with her family as an early 18th birthday present.
"Here's what I'll say in her defense: I don't think she posted knowing what was going to happen. I think she was somebody who had 100, maybe at the most 500 friends on Twitter, or followers, or whatever. And she's thinking not, 'Here's a guy hitting on me,' she's thinking, 'Here's an image I have of James Franco hitting on me. Oh, my god! My friends will never believe this!'" the Palo Alto star said. "She's just used to tweeting something to her friends and she'll get like 20 likes and they'll say, 'Oh, I like your new dress,' or whatever. When she put that on, obviously people pick up on it. She even took it down, but again it was too late."
"My sense is that it turned bad on her," he continued. "Now people say I victim-bashed her or something. Like how is she a victim? Like anybody, I was just trying to meet somebody. It's just that my dirty s--t gets put out internationally."