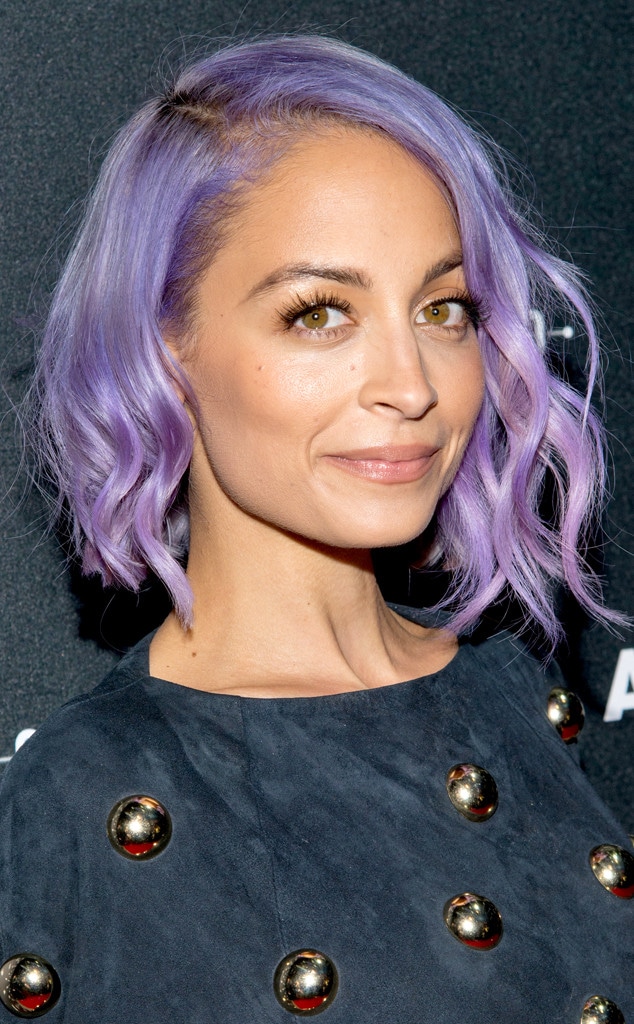 Mike Pont/FilmMagic
Nicole Richie's lavender locks are nothing new, but it seems as though the petite former Fashion Star judge has recently given her hair color a major refresh. We know from experience that bleaching and dying our hair a vibrant color can fade faster than a reality TV star's acting career, so it's no surprise that Nicole's tresses have looked a bit washed out in the recent past.
So you can imagine we were excited to see photos of Nicole at the 2014 AOL Digital Content NewFronts event wearing flattering neutral makeup to perfectly complement her newly brightened hair.
If you regularly read Beauty Police, you know we tend to be quite critical about the nude lip trend (Read: It makes most starlets look like cadavers.) But in Nicole's case, since her hair is such a vivid shade of purple, the creamy nude lipstick is the perfect choice.
Try the Look: To get Nicole's even-toned complexion, start with a brightening and exfoliating mask like Nude Skincare Miracle Mask. Then, nourish and plump skin with a light calming moisturizer like Decleor Harmonie Calm Delicate Milky Cream Emulsion.
Then, prep skin with a primer that will reduce the appearance of fine lines and pores, like Revlon PhotoReady Perfecting Primer. Since the temperature outside is rising, choose a foundation or BB cream that has a liquid-to-powder formula, like Benefit Big Easy. Apply with fingertips at the center of your face and blend outwards.
Next, add a sheer peachy pink flush to your cheeks by applying a powder blush like NARS Blush in Amour on the apples of your cheeks with a blush brush. Pull brush upwards towards the temples to give your face an extra lift.
After prepping eyelids with concealer or primer, apply a shimmery golden bronze eye shadow like Urban Decay Eyeshadow in Blunt from the upper lash line to above the crease. For added definition, line the upper lash line with a creamy black eyeliner pencil like Butter London WINK Eye Pencil in Union Jack Black. Complete the eye makeup with two to three coats of your favorite mascara.
To get Nicole's creamy nude lips, use a nude lip kit that has the tools you'll need, like the Mally Beauty The Perfect Nude Lip kit. Start by outlining the lips with the nude lip liner and then apply the creamy nude lipstick with a lip brush. Complete this look by brushing on the high-shine liquid lipstick.
We have to say…seeing Nicole's delicious lavender locks bring such smiles to our faces that we are seriously considering revisiting the candy-colored hair scene. Of course the last time we dabbled in color, our bathroom ended up looking like a Smurf murder scene. But who knows? Maybe purple will be totally different (instead our bathroom will look like Barney died a violent death...)