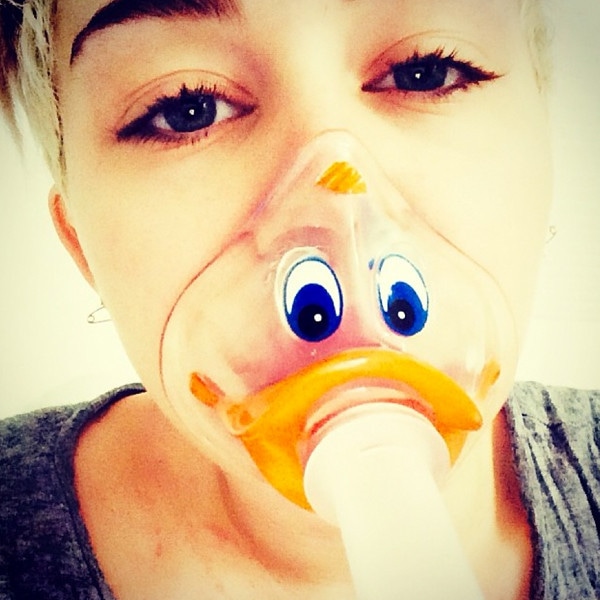 Instagram
UPDATE: An official statement regarding Miley Cyrus' future tour dates was released, saying, "Cyrus is continuing to recover from the severe allergic reaction she suffered on April 15. After a period of improvement, Cyrus' symptoms have returned and Doctor's will not permit her to travel."
It continued, "Cyrus must remain under Doctor's care at this time. The London date at O2 Arena will proceed as planned on May 6th."
________
She isn't out of the woods just yet.
E! News has exclusively learned that the "We Can't Stop" singer has "had a health setback and her allergic reaction issues have returned."
Doctors initially gave a prognosis that Cyrus would require anywhere from 5 to 27 days of recovery, and it seems that she's needing more time to get well.
But the timing couldn't be worse for the former Disney darling who is about to embark on the European leg of her sold-out Bangerz tour.
Her upcoming concert in Amsterdam, which was originally scheduled for this coming Friday, is going to be rescheduled due to the singer's health issues. She is also planning to postpone her show on Sunday evening, May 4, at the Sportpaleis in Antwerp.
As of now, there's no word if her entire tour will be postponed to give the songstress ample time she needs to rest and recuperate.
"Miley is very bummed about it," a source tells us.
Earlier this month, Cyrus postponed the remainder of her U.S. tour after being hospitalized due to a severe allergic reaction from medication.
Cyrus was understandably upset during her hospital stay and vented on Twitter about missing being on the road.
"This hospitals full of a bunch of QUACKS (get it??? Quacks) #punnyeveninthehospy#stayinglightlovingandpositive #imissbangerztour #tryingtonotbebitter," she wrote an Instagram selfie, donning a duck-face oxygen mask.
Cyrus also shared the new dates with her Twitter followers.
Get well, girl!