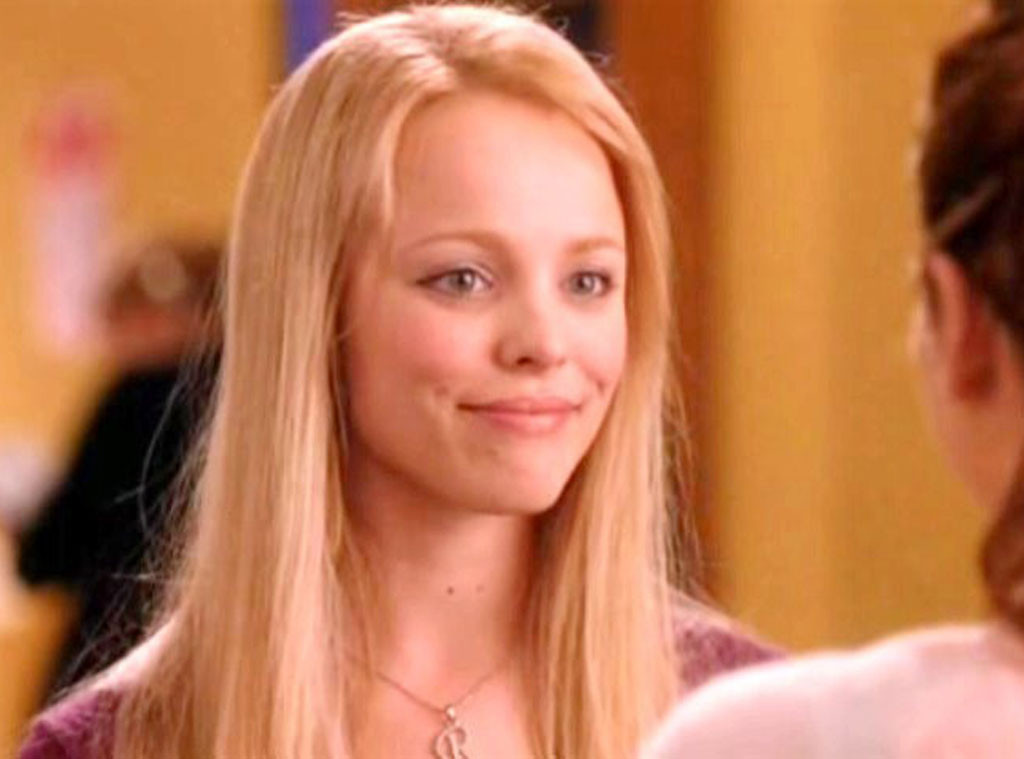 Paramount Pictures
Mean Girls is proof that high school never really ends.
Ten years ago today, Cady Heron (Lindsay Lohan) went from "home-schooled jungle freak" to "regulation hottie" shortly after she began her junior year at North Shore High School. She befriended outcasts Janis Ian (Lizzy Caplan) and Damian (Daniel Franzese) before being recruited by The Plastics: Regina George (Rachel McAdams), Gretchen Wieners (Lacey Chabert) and Karen Smith (Amanda Seyfried).
Since its theatrical release on Apr. 30, 2004, Mean Girls has become a cult classic. To date, it has made $121 million at the worldwide box office. To honor of the film's legacy, several of its stars—including screenwriter Tina Fey, who played Ms. Sharon Norbury—shared their stories with The New York Times.
"I revisited high school behaviors of my own—futile, poisonous, bitter behaviors that served no purpose," Fey said of the script, inspired by Rosalind Wiseman's book Queen Bees and Wannabes. "That thing of someone saying, 'You're really pretty,' and then, when the other person thanks them, saying, 'Oh, so you agree? You think you're pretty?' That happened in my school. That was a bear trap."
How did McAdams transform into the ultimate ice princess? "At the heart of Regina George was a really angry kid who had no boundaries or guidance," the actress, 35, recalls. "[Director Mark Waters] told me to listen to Courtney Love really loud, and to watch Alec Baldwin in Glengarry Glen Ross."
Chabert understood Fey's vision. "I related to the part in the movie where girls are cutting themselves down, like, 'My hairline is weird'—stuff people would never notice on someone else," she said. "I was never the cool kid. I wore Minnie Mouse stuff. And growing up in Hollywood, I always felt under a microscope." Caplan, too, felt a strong connection to her character. "I think all girls that age are looking for their 'thing.' I was fairly angsty in high school," she said. "I had my hair dyed black and was into Charles Bukowski. For the movie, I wanted to wear tons of layers and dark eye makeup. I cooked my hair—literally burned it with a flatiron—to make it stick up straighter. Only now...has it recovered."
Mean Girls was an instant hit, which surprised McAdams. "When you're making something, you kind of have no concept of it. But this was the script that made me call my manager halfway through and say, 'I will play any part in this,'" she said. "Tina hit a nerve about girl politics, but in a nonconfrontational way."
Fey joked that Mean Girls has remained popular thanks to TV reruns—and it might be time for McAdams to tune in! "I recently stayed at a bed-and-breakfast in Europe, and the owner's young granddaughter asked me to write down a few lines from the movie at breakfast. I was like a deer in headlights. I couldn't remember any," she recalled. "And she proceeded to give me 12 direct quotes."
Caplan, who now stars in Masters of Sex, adds, "I've had quite a few crew members on later gigs bring in DVDs for me to sign for their daughters, who must have been, like, toddlers when we shot the film."
What's the latest on the Mean Girls musical? According to Fey, it's still in the "early" development stage. "We've been enjoying trying to write," the former 30 Rock star explained. "I wish so badly we could have had it done in some form for the 10th anniversary, but hopefully before the 15th."