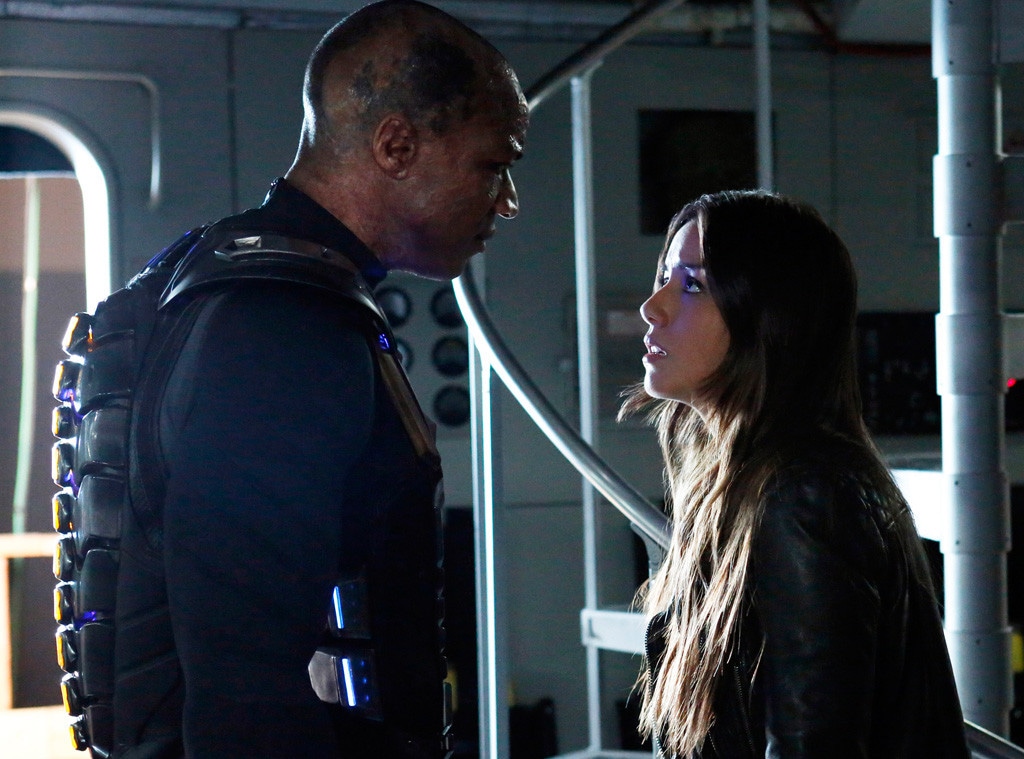 ABC/Kelsey McNeal
Tuesday night TV is like a plate full of chocolate chip cookies—always amazing.
Marvel's Agents of S.H.I.E.L.D. finally answered a question that we've been dying to know the answer to sincethe very beginning. Meanwhile, all hell broke loose (in the best way possible, of course!) on The Originals, and Glee took a trip to Hollywood. All that and more in tonight's edition of OMG TV Moments!
Marvel's Agents of S.H.I.EL.D.: They know. They ALL know.  For the past few weeks, viewers at home have known that Agent Ward is actually Hydra and now everything finally came out into the open. Not only did Ward discover that Skye knew of his double life, but Coulson, May, Fitz, Simmons and Maria Hill (she's ba-ack!) all discovered the deep dark truth as well. Coulson managed to save Skye from Ward and Deathlok's clutches, and in turn, Melinda May gifted us with some highly classified information that we've been dying to know. 
In a video message from Coulson, we discovered that T.A.H.I.T.I. was a project designed to resurrect fallen Avengers, however the side effect were far too detrimental. Past Coulson revealed that the only way to stem the side effects was memory replacement, thus explaining why Coulson has absolutely no recollection of T.A.H.I.T.I. 
Supernatural: Blood Lines: Werewolves and shape-shifters and ghouls—oh my! It's time for a brand new Supernatural journey, y'all! Sam and Dean arrived to work a case in Chicago, ya know, like they've done for years, only this time everything was different. Our dashing Winchester bros were shocked to discover that the city is actually filled with a monster mob scene run by five specific families.
The guys decided to take fellow human and monster-hater Ennis under their wings and started to teach him the basics of how to be a hunter. But the biggest OMG moment of the episode came at the very end when Ennis received a call warning him not to become a hunter. All Ennis could utter was, "Dad?!" Oh and did we mention that Ennis' dad has been dead for years? For even more jaw-dropping goodies on Blood Lines, check out our exclusive interview with executive producer Andrew Dabb.
The Originals: Someone get a broom, because the Other Side is an absolute mess! Just like in The Vampire Diaries, our gorgeous vamps in the French Quarter have discovered that spirit world is absolutely crumbling. How did they know that, you ask? Well, Mikael spent the majority of tonight's episode taunting and tormenting poor Haley in hopes of stopping her precious baby from being born. Not cool, you psycho. Luckily, Haley was able to escape from Mikael's clutches and ran right into Elijah's arms.
Hold your breath Haylijah-shippers because our sexy could-be-couple finally shared their first kiss—and it was H-O-T! (We're still sweatin' over here!) However we did not get a happy ending because by the end of the hour, Mikael appeared in ghost form to our favorite little witch, Davina, and demanded that she help him cross back over into the real world. Yikes! Oh and a huge congrats to Cami for officially stepping up as the human leader in NOLA.
Glee: Yikes! First, Rachel decided to blow off one of her Funny Girl performances to audition for a (totally ridiculous) pilot in LA. Then she realize that she made a huge mistake and could not make it back to NYC in time to stand in for her stand-in when the poor girl fell off the stage. But have no fear, Santana is here! The Lima Heights diva kindly stepped in to save Rachel's cute lil booty, but this unprofessional behavior got our star a stern figurative slap in the face from the Funny Girl higher-ups.
Meanwhile, Kurt was all aflutter about performing in front of a star-loving socialite named June, and he even invited his beau Blaine to sing along too. However, the old gal (Pssst! It was Shirley MacLaine!) only took a liking to Blaine and then promptly told out bowtie-lover that he should break off his engagement. Uhhh… harsh much?