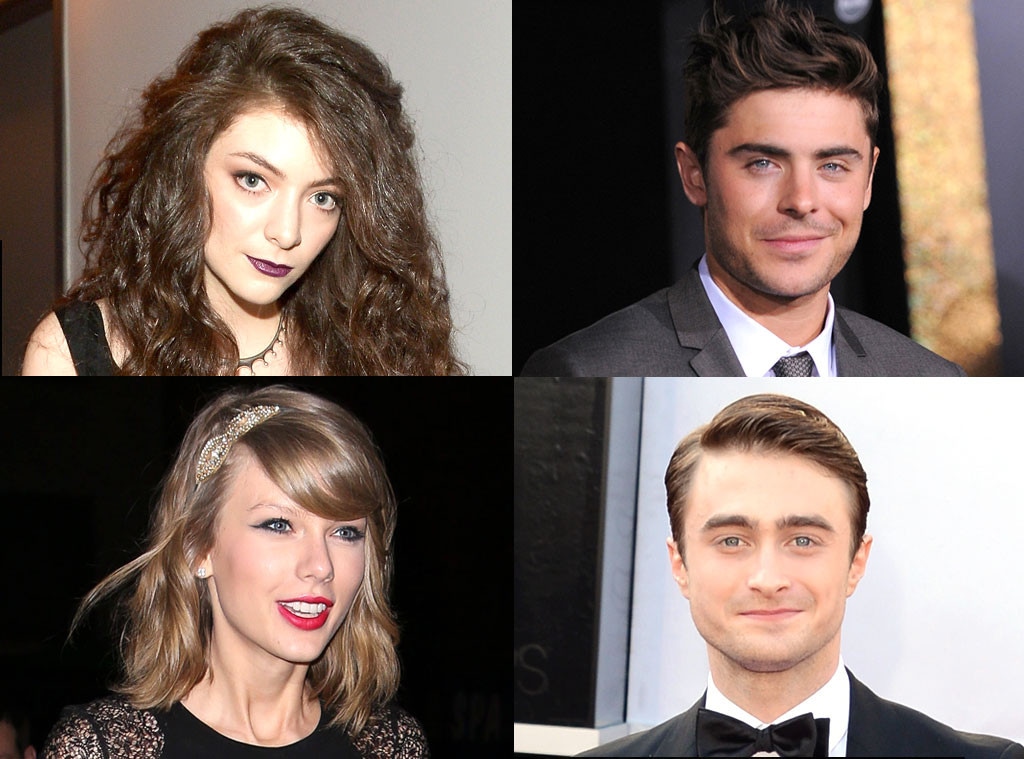 INF, Getty Images
Grease is the word, have you heard?
We won't deny that the first thing we did when we heard Fox was planning to air a Grease Live special in 2015 was to immediately start practicing our hand-jive.
But the second thing we did? We started compiling our picks for who should fill the iconic dancing shoes of John Travolta and Olivia Newton-John as Danny Zuko and Sandy Olsson from the hit 1978 film (based on the original 1971 musical, of course). Then we get carried away and started dream-casting the roles of Kenickie and Rizzo, which were memorably played by Jeff Conaway (who passed away in 2011) and Stockard Channing.
So which young stars would we like to see sing about "Summer Nights" come 2015?
Darren Criss: Who better than the Glee star to tackle the role when he already took part in the production (as Teen Angel!) for Fox on Glee? Plus, boy can sing. (Also: network synergy!)
Nick Jonas: He's got the looks and the voice to take over Grease Lightnin' duties. Plus, he has Broadway experience.
Zac Efron: Come on, how can we not endorse Efron, who became Young Hollywood's go-to musical guy after the success of the High School Musical franchise and Hairspray? We'd love to see Efron return to his musical roots in this role.
James Maslow: The current Dancing With the Stars fan favorite, who is in the boy band Big Time Rush, could put his training to immediate use
Drake: Hey, YODCGLO. (You Only Dream Cast Grease Live Once.)
Sandy Olsson
Taylor Swift: OR BUST. If we need to explain this one to you, you don't deserve happiness. Moving on…
Anna Camp: We could see the Pitch Perfect star being pitch-perfect as the slightly uptight Sandy, couldn't you?
Dianna Agron: We hate to keep returning to the Glee pool, but Agron would make a great Sandy as she does have that slight edge needed to pull off Sandy's transformation (And those infamous black pants).
Kristen Bell: The Veronica Mars star proved she has a voice to be reckoned with as Anna in the Oscar-winning smash animated film Frozen, so we'd love to see Bell take on the challenge of a live musical. (She's got charisma and charm to spare.)
Julianne Hough: Hough is a triple threat (singing, dancing and acting) and is used to a grueling schedule thanks to her time on DWTS. Plus, Fox could be frugal and just have her choreograph the whole thing.
InVision/AP Photo, Getty Images
Rizzo
Tatiana Maslany: Any Orphan Black fan knows that Maslany can take on any role (or eight!) and we know she'd totally own this role.
Lorde: Can you imagine how awesome it would be if the "Royals" singer's BFF Swift was the Sandy to her Rizzo?!
Kat Graham: the one word we'd used to describe The Vampire Diaries star? Fierce, which is exactly what Rizzo needs to be.
Sara Ramirez: Yes, the Grey's Anatomy star has a seriously awesome set of pipes and can definitely pull off Rizzo's sassy side.
Demi Lovato: After judging on The X Factor, guesting on Glee and acting as a mentor on American Idol, it's obvious that Fox clearly has a favorite pop star.
Kenickie:
Wilson Bethel: The Hart of Dixie stud can sing and he has great comedic timing.  
Daniel Radcliffe: The Harry Potter star loves to show off his vocals on Broadway, so we could totally see him taking on this challenge and crushing the role.
Kid Cudi: The rapper stole the show from Breaking Bad's Aaron Paul as the funny sidekick in Need for Speed.
Aaron Tveit: We hear at E! Online have such a huge crush on the Graceland and Les Mis star that we'd listen to him sing the phone book. So yeah, we could handle watching him performing live for three hours.
Corbin Bleu: Why not stage a reunion with Efron and Bleu, who played the Disney Channel's version of Danny and Kenickie in High School Musical?
Who do you think should play Danny, Sandy and the rest of the gang? Sound off in the comments!