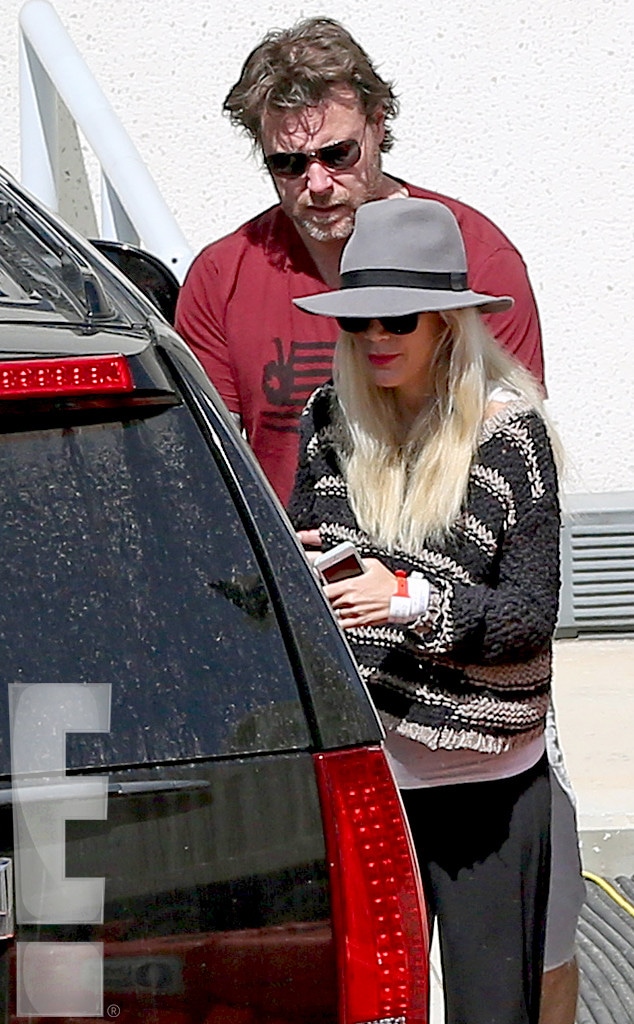 INFphoto.com
In the midst of her marital issues with Dean McDermott, E! News has exclusively learned that Tori Spelling was recently hospitalized for at least six days.
Although the reason behind Spelling's hospitalization hasn't been disclosed, The True Tori star headed home shortly before 3 p.m. Saturday with a pink hospital band still on her wrist as her husband helped her make her way to an awaiting SUV.
A source tells E! News McDermott was with her every step of the way during her hospital stay, staying with her for up to 10 hours every day. "He would arrive by 10am and didn't leave until 8 most nights. He seemed very stressed out and worried," an observer said. ''He would bring food and often only left Tori to go outside to catch some air or make a phone call.''
Last week, the actress opened up about the issues in her marriage on her blog, writing, "I wanted to take a moment to address what's been going on in my life over the last several months. Our family has been going through an incredibly difficult and trying time, and the story of what I've been going through has been told by everyone except for me. So, it's time for me to set the record straight."
She went on to say that she would be sharing her story on the premiere of her reality show True Tori, which premiered April 22 on Lifetime. "Throughout my life, the tabloids have told every story you could imagine – and they always got it wrong," she continued. "I needed the chance to tell my own story. At the moment, I don't know if it will have a happy ending. But I need to get my voice back, and this is my way of doing that."
The 40-year-old Mystery Girls star and McDermott were both married to other people when they got together, but Spelling never thought he would cheat on her too.
So, she was shocked when she learned of her husband's two-day affair with 28-year-old Emily Goodhand during a trip to Toronto in December 2013. "He cheated on me. One of my worst fears came true," she tells Us Weekly. "On some level I never thought it would really happen."
She said she didn't leave him because, "There are children involved." The duo has four kids together—Liam, 7, Stella, 5, Hattie, 2, and Finn, 20 months. "For their sakes, I need to try to figure this out," she added.
"You don't stop loving someone because they do something really bad to you," she explains. "He was my soul mate, but he completely broke my heart. It makes you not trust anything that's happened in your relationship. But until I figure it out, I don't want my kids to know any different." She added, "I owe this relationship more than just saying something horrible happened and dismissing it. I need to figure out if he can change."
Spelling also revealed that they are in the "beginning stages of therapy."
Although Spelling and McDermott were recently accused of faking his extramarital affair for the sake of her reality show, sources tell E! News there was no fake out, adding that the family's "drama and problems are definitely real."
Spelling's rep has not yet returned requests for comment regarding her hospitalization.