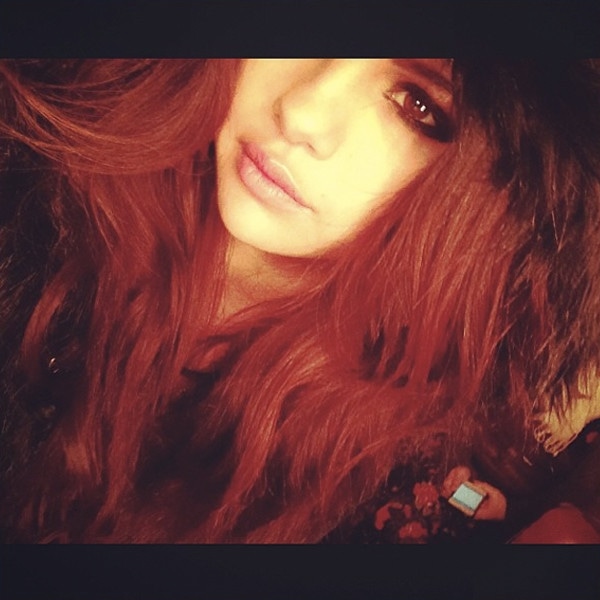 Instagram
Earlier this week, Selena Gomez suddenly unfollowed everyone on her Instagram account, and, coupled with the singer's moody pics and cryptic posts (including the lyrics to Mary J. Blige's "Work In Progress"), fans began to speculate that something is up with the pop star.
And now we have insight into the singer's demeanor as of late following her trip to the Coachella Valley Music Festival earlier this month.
A source says the singer has had an epiphany of sorts after the 3-day outdoor concert and has decided to remove what she believes are negative influences in her life and is focusing on positive things and people. 
While the source would not specify what prompted the singer's decision, we're told Selena is currently reevaluating her friendships and relationships with certain people which is why she had an Instagram purge and is not following anyone on that social media platform.
The source adds that Selena really wants to focus on her music and will also be regularly attending church services. 
Gomez attended Coachella with pals Kendall and Kylie Jenner and got cozy with on-again, off-again boyfriend Justin Bieber.
Bieber surprised festivalgoers and joined pal Chance the Rapper for his set on Sunday, and according to an eyewitness Selena watched from the side of the stage while Justin performed.
Another insider added that the two "seemed content" and "were having a good time in each other's company," and according to eyewitness accounts the two were also seen holding hands.
Shortly after Coachella, Gomez posted a moody Instagram snap with the caption "I'm going back, to black," referencing the Amy Winehouse song before she posted a review of Mary J. Blige's 2007 album Growing Pains with the lyrics to the tune "Work in Progress."
She then unfollowed everyone on the photo-sharing site and has since only posted one stunning snap.
While the "Come and Get It Singer" may be making changes in her life, she has been out and about with her girlfriends over the past few days. She was spotted heading out for lunch with friends in Calabasas, Calif., on Monday after spending Saturday night having fun with gal-pals in Los Angeles.
"Selena Gomez was out at Rock and Reilly's Irish Pub Saturday night in West Hollywood with a big group of girlfriends and a guy she seemed to be flirting with," a source tells E! News, adding that the group got together for dancer Ashley Cinq-Mars' birthday celebration and that the guy was another friend of the group.
"The crew shared some bubbly and apps for the celebration, which was very loud and high-spirited. Selena slipped out of the party around 8:30 p.m."
Gomez's recent epiphany comes over three months after she completed a secret two-week stint in rehab in January. A source later told E! News that Gomez checked in right after a photo surfaced of her riding Segways with ex-boyfriend Justin Bieber near his home in Calabasas.
"The last straw was seeing them on the Segways," the source says. "She needed to work on her emotional life. She needed to learn tools on how to deal with Justin and letting go of that relationship.
"This is the first time she's ever taken the time to deal with issues, to deal with herself, with a therapist."
Meanwhile, Bieber was finally allowed to leave LAX airport yesterday after being detained for nearly four hours by U.S. Customs when he arrived on an Air Singapore flight from Tokyo.