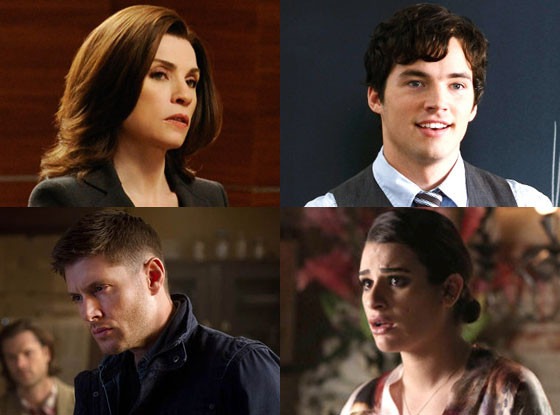 ABC, CW, FOX
Confession: we have way too much TV knowledge.
Seriously, we often find ourselves tripping in the office because of all the spoilers we drop everywhere. So it's time to do a little spring cleaning and what better way than to give you all of our extra scoop?! In Today's edition of Spoiler Chat we're gifting you with an exclusive update on how many seasons Pretty Little Liars has left on the air, and Julianna Margulies Good Wife details that you won't find anywhere else.  
Plus, read on for scoop on Supernatural's jaw-dropping finale cliffhanger, if a fan favorite character could return to Glee, Orphan Black's latest shocker and more!
Brandon T.: Give us some scoop on Supernatural, would ya?
Prepare for a Supernatural first and a major cliffhanger in the finale. "We l eave our guys in a situation they've never faced before, which after nine seasons, it kind of narrows it down a little bit," supervising producer Andrew Dabb teases. "I think once they see the last frame of the last episode, I think people are going to be incredibly excited for Season 10."
Caitlin: Am I the only one worried about the state of Florrick/Agos on The Good Wife? Alicia and Cary are the new Will and Diane, they can't start feuding already. It's too soon!
We're right there with you, which is why we asked Alicia Florrick herself about this business going down. "There's some tensions," series star Julianna Margulies tells us. "I mean some sh-- went down when she was in bed for a couple of days after Will's death, and he sort of...there's some big fights about to happen that you'll see…I think Alicia realizes that she might have made a mistake. Let's just say that." A mistake about what? That we can't tell you.
Trinka: Glee is finally getting good again! (No offense, Ryan Murphy.) Can you tell me what's coming up next?
There are so many changes coming to Glee in season six (new places, new faces and a time jump!) but there one star who is hoping one thing never changes: Coach Roz's sass! Glee's Nene Leakes hopes that when she's done shimmying and shaking on Dancing with the Stars, she'll be able to reprise her role as the WMHS swim coach. "I love Coach Roz, she is an amazing character, and I'd love to continue to be Coach Roz," the Real Housewife spills. "I had an amazing run on Glee. I've been on there three seasons, and I get along with everyone there, so I'd like to see Coach Roz continue."
ABC FAMILY/Eric McCandless
Benzoholic345: Thank you so much for that Pretty Little Liars movie update last week! Got any more PLL secrets you can spill?
Ah, you caught us, we always carry pretty little spoilers in our fanny pack. (Hey, don't judge—they're still cool!)As you know, creator Marlene King already spilled that a PLL movie is the goal, but just when will that happen? ABC Family has already renewed the dark drama for a fifth season, but could that be the end of our Rosewood residents on the small screen? "I don't think the end of season five is the end of our story," King says. "We know what that ending is already and it definitely sets us up for some more stories to tell in season six, but of course we have to rely on ABC Family for that, but I think they'll think so too." Are you excited for more potential PLL seasons?!
Joseph: I'm obsessed with Under the Dome, please tell me that I'm not alone?
Heck no! We found ourselves trapped by all the soapy-goodness last summer and we've got some brand new scoop on what's ahead. Prepare to meet Hunter, he's a confident teen who is particularly savvy when it comes to all things technology. He'll definitely be helping out our dome detainees in season two to warn you—don't get on his bad side!
Sydney: I'm stoked that Awkward is back, but I'm just waiting for Jenna to screw up her life again. Got any info on what's ahead?
Jenna may be a ticking time bomb of bad choices, but Natalie sure isn't! Who is Natalie, you ask? She's a sexy single mom in her late twenties who helps give one P.V. senior his sexy mojo back at a New Year's Eve party. (But we're not spilling who!) We'll be seeing a lot from Natalie in future episodes, so you better start learning to like her now…
Krissy M.: I absolutely adore Trophy Wife, got anything on that you can share?
Well, we just finished watching Trophy Wife's season one finale and we're currently can't stop smiling ear-to-ear from all the sweetness. (Seriously please send someone, it's starting to hurt!) Three things you should be prepared for: 1. Prepare to meet a chicken named Fred. 2. There will be a trip to the hospital, but we're not revealing why! And finally get ready for a whole lot of Mother's Day shenanigans filled with lies, betrayal, and hilarious one-liners from Jackie.
Emma: My mind is still blown from Saturday's episode of Orphan Black. Helena is a…what?!
Spoiler Alert: She's a mirror twin! Her internal organs are the exact opposite of Sarah's—pretty wild right? We chatted with Orphan Black's genius creators to get the scoop on this twist. Graeme Mason explains, "Somewhere along in my research I discovered what a mirror twin was, and I told John and we both just flipped and said 'That's it!'" Executive producer John Fawcett adds, "It's perfect because Sarah and Helena are kind of a yin/yang thing, and that worked exactly for our concept. And we loved it as a reveal for season two. We had never ever had any plans to dispatch of Helena."
Got a TV question? Tweet it to @kristindsantos—or send an Instagram video—with #AskKristin, and you may be part of the next Spoiler Chat or Watch With Kristin show!
SPOILER CHAT comes out every Monday and Wednesday at 9 a.m. ET/6 a.m. PT. Bookmark the link!