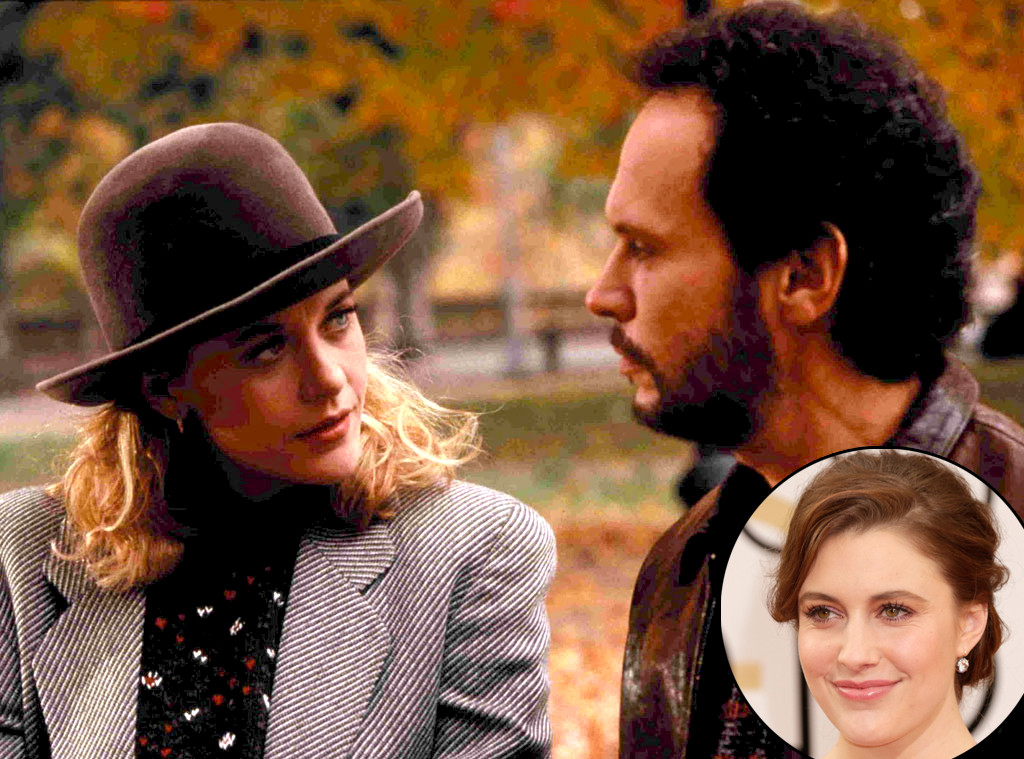 Castle Rock Entertainment/Jeff Vespa/WireImage
How I Met Your Mother creators, we are onto you.
We totally figured out the ending of HIMYM way before it happened, and now, your surprise casting of Meg Ryan in the HIMYM spinoff as—wait for it... "Future Sally" (!!!)—has given us another colossal Aha! moment:
You are totally doing When Harry Met Sally mixed with Sleepless in Seattle.
Don't try to deny it!
See, we here at E! Online worship at the altar of Meg Ryan romantic comedies, so you can't pull a fast one on us. Her You've Got Mail character Kathleen Kelly is our hero, her fake orgasm over a sandwich in When Harry Met Sally is one of our all-time favorite movie scenes and Sleepless in Seattle never fails to make us happy-cry.
After doing a little research (or, you know, staying up all night re-watching Ryan's rom-coms), we're fairly certain that executive producers Craig Thomas and Carter Bays have decided to get their Frankenstein on and blend all three movies together to make TV's greatest romantic comedy of all-time. Meg Ryan's casting as "Future Sally," the older version of Greta Gerwig's character on How I Met Your Dad, is just the first clue.
Here are 9 reasons why we're convinced How I Met Your Dad is really the perfect hybrid of Ryan's three best romantic comedies, Sleepless in Seattle, When Harry Met Sally and You've Got Mail...
1. The main character's name in How I Met Your Dad? Sally. Meg Ryan's character's name is When Harry Met Sally? Sally.
2. Neither of Sally's two love interests in the pilot are named Harry—Anders Holm plays her ex Gavin and Nick D'Agosto plays potential suitor-turned-friend Frank—But!!! Ryan's boyfriend in You've Got Mail, played by Greg Kinnear, was named...you guessed it...Frank!
Venturelli/Jeff Vespa/Getty Images
3. Greta Gerwig will be writing on the show ("I contributed a lot into the pilot, and I'll be in the writers room staring June 1 if they pick it up," she told us back in March) and newsflash: She is a huge When Harry Met Sally fan! When speaking to Vulture about the HIMYM series finale, which (Spoiler Alert!) saw Ted and Robin end up together in the end, Gerwig said, "I'm such a schmaltzy person. It's like, yes, I know that Annie Hall is the best ending of all time when they don't end up together. But really, in my heart of heart of hearts...I love in When Harry Met Sally when they end up together."
4. Sally's brother, Danny, in HIMYD is a lawyer. Sleepless in Seattle's Annie's brother, played by David Hyde Pierce, was a lawyer.
5. Obvious, but all three of Ryan's most iconic rom-coms had major New York City: The empire State building is essential to Sleepless in Seattle's love story, Harry and Sally's entire love story takes place in the city and You've Got Mail is basically one big, mushy love story to NYC. Where is HIMYD set? New York City. Boom.
6. Sally's BFF on HIMYD, Juliet, is not a fan of Gavin, her soon-to-be ex-husband. In Sleepless in Seattle, Annie's friend Becky (Rosie O'Donnell) is not a fan of her fiance Walter (Bill Pullman), while everyone at the The Shop Around the Corner, including Christina (Heather Burns) and Birdie (Jean Stapleton), knew Frank was not The One for Kathleen. All of them enourage Ryan's character to pursue someone else, just like Juliet on How I Met Your Dad.
7. Future Sally is, of course, telling her children the story of how she met their father. When Harry Met Sally ends (Do we need to do a spoiler alert? It's been out for over 25 years, you weirdos!) with Sally and Harry telling retelling their love story in a sitdown interview.
8. Back in 2012, Thomas and Bays were asked which writer they would want to add to the HIMYM staff by The Hollywood Reporter. Thomas' pick? Nora Ephron, the writer of When Harry Met Sally and You've Got Mail.  (Ephron passed away later in 2012.)
9. The most obvious reason of all: Ryan voices Future Sally. Duh.
Come on! Could there be any more proof that the spinoff is a mix of Ryan's three best movies?!*
*There totally could, and this entire article is mostly ridiculous ramblings from an overexcited Meg-Ryan-rom-com superfan. But hey, we have been shockingly right before...