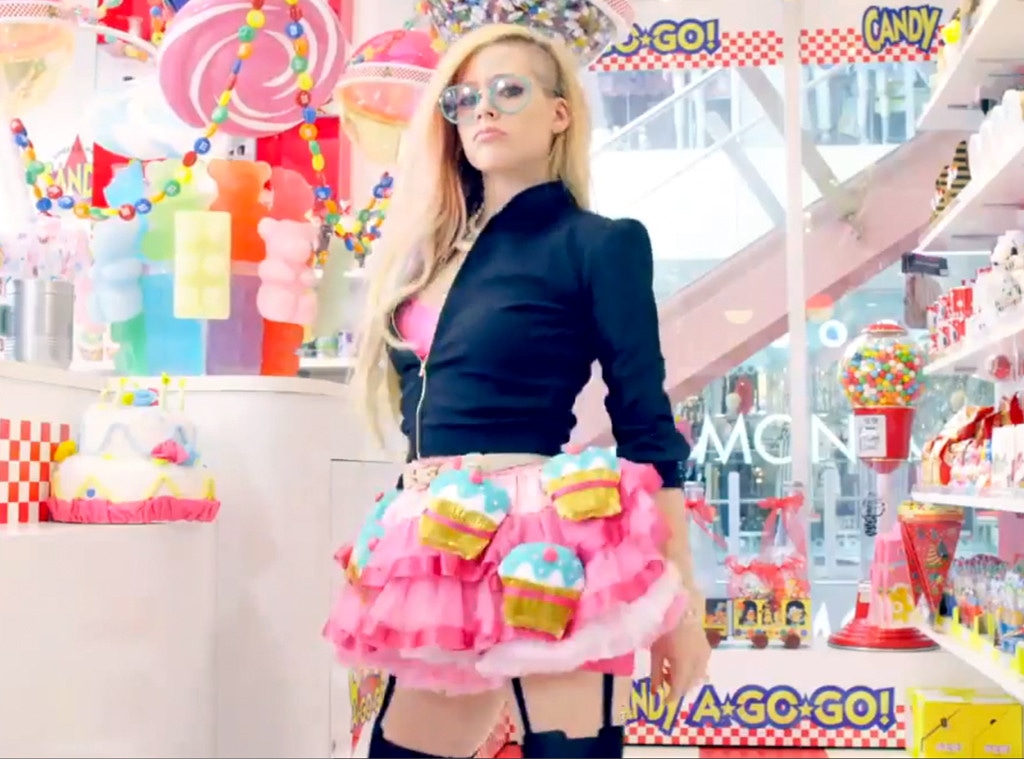 YouTube
Uh, really?! Avril Lavigne doesn't think her "Hello Kitty" music video is the least bit offensive.
The colorful video features the 29-year-old singer wearing a cupcake tutu and prancing around Tokyo, flanked by a quartet of Asian women dressed in matching outfits. Other scenes show Lavigne playing air guitar and drinking sake. At one point during the song, the Canadian crooner recites Japanese lyrics.
As a result, Billboard slammed the "trainwreck" music video for its "Japan fetishization" and called out Lavigne for "parading around with four identical, creepily expressionless Asian women." Fans were equally outraged and tweeted about their frustrations. "Not sure if this Avril Lavigne video is terrible, racist, or terribly racist," one user wrote. Another echoed that sentiment, tweeting, "I'm not sure which makes it harder to watch the new Avril video: that it's offensive and racist or just weird."
The pop star laughed off the implication Wednesday, tweeting, "RACIST??? LOLOLOL!!! I love Japanese culture and I spend half of my time in Japan. I flew to Tokyo to shoot this video...specifically for my Japanese fans, WITH my Japanese label, Japanese choreographers AND a Japanese director IN Japan."
The J-Pop-influenced dubstep track was co-written by Lavigne's husband, Nickelback frontman Chad Kroeger. It serves as the fourth single from the Canadian singer's self-titled fifth studio album.