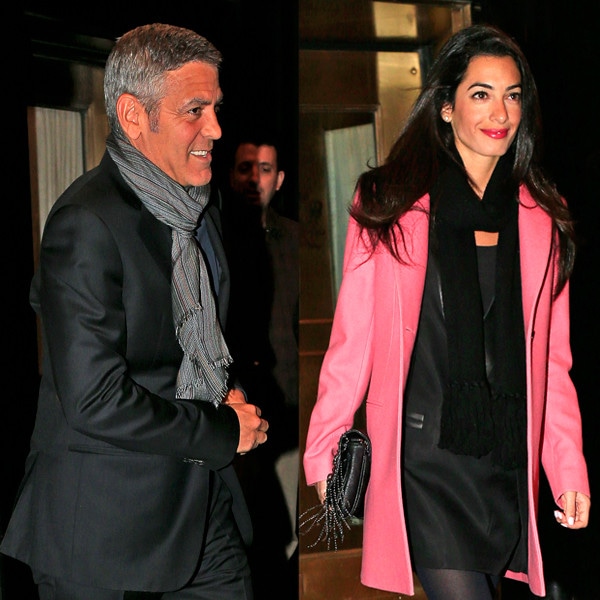 Splash News
Never say never!
George Clooney is engaged to lawyer Amal Alamuddin after barely seven months of dating, according to People.
E! news has learned from two separate sources that the two are headed to the altar. Clooney's British ladylove was first spotted flashing a "massive" ring on her left ring finger Thursday, while dining at Malibu restaurant Nobu with Cindy Crawford and her husband Rande Gerber, one source told E! News.
In the middle of dinner that evening, the couple told pal Edward Norton "we're engaged!" when he approached their table. The actor went on to congratulate them with kisses.
The handsome couple were first romantically linked in October when they looked cozy at a dinner party together, the pair presumably bonding over their shared concern for global human rights and work with the United Nations. 
This will be the second trip down the aisle for the 52-year-old Clooney, who was married to Talia Balsam from 1989 to 1993—after which he vowed never to do such a thing again. Or so the Hollywood legend goes.
"I haven't had aspirations in that way, ever," the Oscar-winning director and producer told Esquire last year, setting the record straight. "I was married in 1989. I wasn't very good at it. I was quoted as saying I'll never get married again pretty much right after I got divorced and then I've never talked about it since."
Clooney has been almost as famous for his serial monogamy as his varied work on the big and small screens. He last dated Stacy Keibler for two years before they amicably called it quits last July. She is expecting her first child with husband Jared Pobre, whom she married last month.
And now Clooney's relationship status is no longer up in the air.
He and Alamuddin vacationed in the Seychelles together in March and went on safari in Tanzania before returning to the States for your average lounge-and-restaurant date nights in New York and Los Angeles.
Alamuddin, who was born in Lebanon and grew up in Great Britain, is already a hit with Clooney's nearest and dearest, too. They were spotted grabbing sushi with Emily Blunt and John Krasinski a few weeks ago.
Looks like she passed the friends test!
Shortly after they first sparked speculation about the nature of their relationship, Clooney's longtime rep, Stan Rosenfield, assured inquiring minds that the pair were just friends. (And that Clooney wasn't dating Katie Holmes or anyone else he happened to be mentioned in the same sentence with at the time.)
"He wants Amal to be able to prosecute cases without being hassled because she had one dinner with George and four others," Rosenfield said. "I even asked George if these rumors were true and he said he never comments on his private life, but in the interest of stopping the harassment of all three of these women, he felt he should."
Congratulations to George and his future bride!