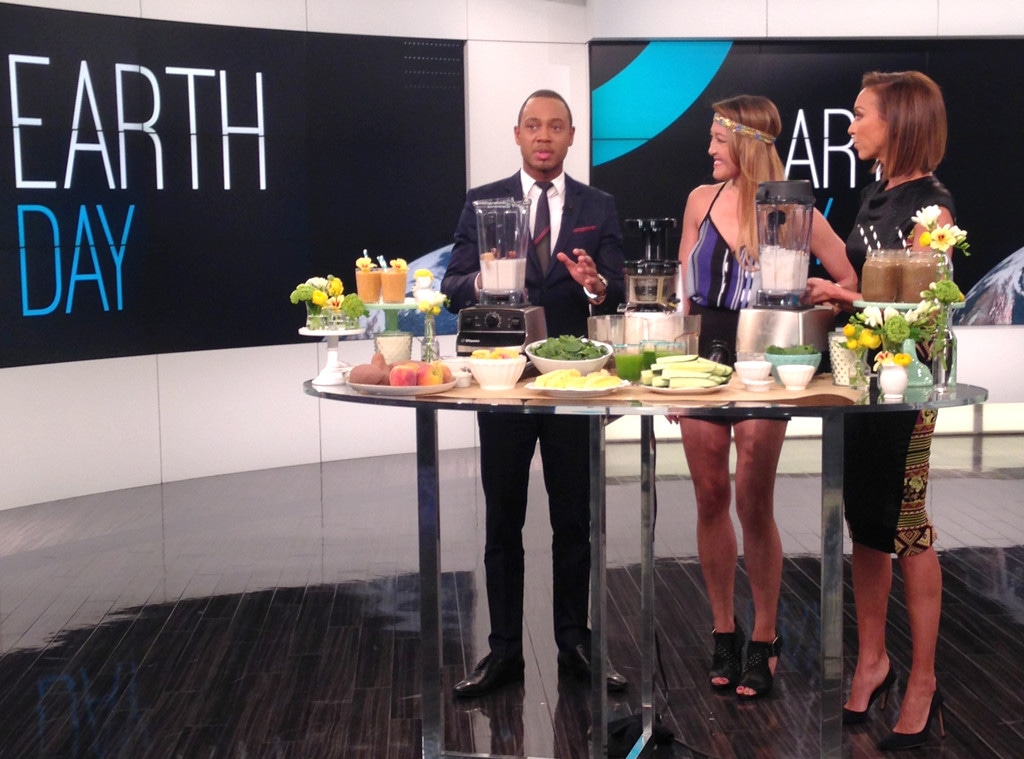 E!
Candice Kumai, Celebrity Chef, Food Editor at Shape Magazine and author of the highly anticipated cleansing book, Clean Green Drinks, shows us her favorite ways to cleanse for into a hot swimsuit-ready body this summer! Remember, summer bodies always start in the spring! 
She's here to show us her CHEF and RD approved uber-delicious, recipes from her new book Clean Green Drinks, available TODAY! 
DRINK #1
The Chocolate Morning Wake-Up 
Banana, Green Superfood, Protein 
Serves 2 
Anything chocolate does a body good. Just look at all of the benefits that cocoa powder can bring you! Anti-aging, feel-good benefits, and a good mood! Slim that waist naturally every morning, the natural and organic way! ? let's take out this line and have her hit this in the second drink. 
1 cup unsweetened almond milk
1 cup baby spinach
1 frozen banana
2 tablespoons unsweetened cocoa powder
1 tablespoon superfood greens
2 tablespoons protein powder
1 cup ice
Directions: Combine all ingredients in a blender and blend until smooth. Serve immediately
DRINK #2
The Spicy-Ginger Pineapple Green 
Baby Spinach, Cucumber, Pineapple 
Serves 1-2 
Enjoy this delicious and satisfying cleansing juice to make you feel-amazing and detoxified throughout the day! Packed with Ginger and Pineapple to help with digestion and flatten that belly so you can slim down just in time for summer!

3/4 cup fresh pineapple
3 cups baby spinach
1 tablespoon fresh ginger root
1 medium cucumber
Directions:
In a high-powered juicer, carefully add the pineapple, baby spinach, ginger and cucumber.
DRINK #3
The Sweet Potato Peach Smoothie  
Sweet Potato Pure, Banana, Peaches 
Serves 4

Sweet potato, with loads of vitamin A, beta carotene and vitamin C, this smoothie is totally, nourishing and soothing for beautiful skin!

2½ cups unsweetened almond milk
½ frozen banana
¾ cup sweet potato purée, or steamed sweet potatoes
3 cups frozen, organic peaches
¼ teaspoon pumpkin spice
¼ teaspoon nutmeg
¼ teaspoon cinnamon
1 scoop (4 tablespoons) protein (optional)
Directions: Combine all ingredients in a blender and blend until smooth. Serve immediately.