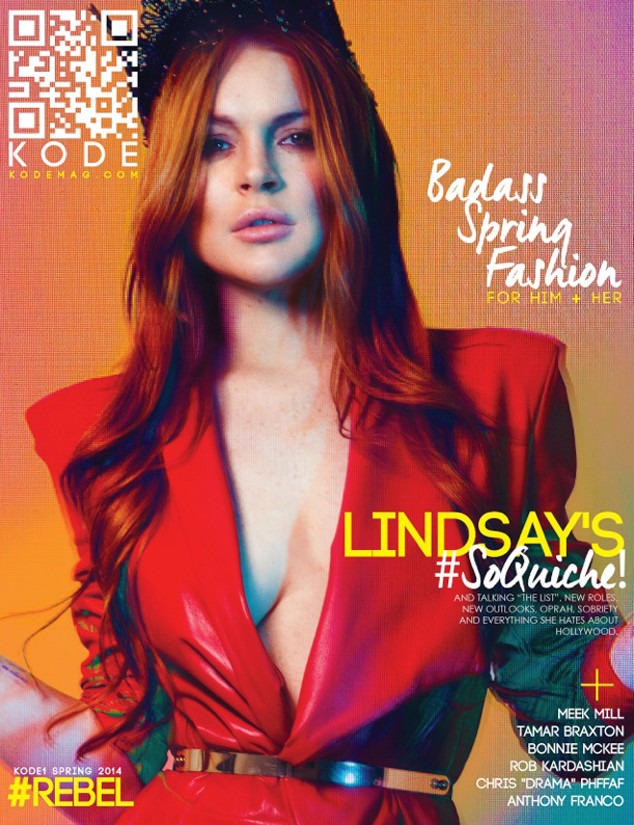 KODE Magazine
Has Lindsay Lohan been exposed—or entirely misrepresented?
A rep for the star, whose OWN docuseries concluded last night with the bombshell revelation that she recently suffered a miscarriage, tells E! News that a Lohan cover story published by Kode magazine really went off the rails in the truth department when the writer made a note about the star taking a sip from a vodka on the rocks during their interview.
"Lindsay never spoke to any journalist at Kode. The interview was completed via email," Lohan's rep exclusively told E! News Monday. "We have no comprehension on why a journalist would fabricate this content and distribute it in such an irresponsible way."
But the crew at Kode begs to differ.
Allan Troy Watson, the magazine's editor in chief, also tells E! News that the interview took place as it was presented and there were witnesses.
"I have sworn testimonies that it took place that back up everything," he says.
Executive editor Jacob Simon adds, "Yes, the interview took place and everything stated in the article is fact and came directly from Lohan herself. And we have photos chronicling the writer and Lindsay's numerous times together."
Lohan's rep, meanwhile, insists that the actress submitted a filled-out Q&A via email and did not actually speak to anyone for the interview.
A part of the story in question reads as follows, according to an excerpt from the mag obtained by E! News:
"When speaking of Oprah [Winfrey], Lohan has nothing but glowing qualms of the talk show queen. 'She's taught me so much and really believes in me, nothing like [Barbara] Walters,' she confesses as she takes a sip from her freshly topped off glass of Vodka on the rocks. From this moment, all questions of sobriety seem irrelevant. From there, the conversation turns to the current state of Hollywood and the recent Oscar awards."
The author of the piece also writes: "The last time I saw Lindsay would be as she made her way into the second day of the Coachella festival with a vodka filled Evian bottle."