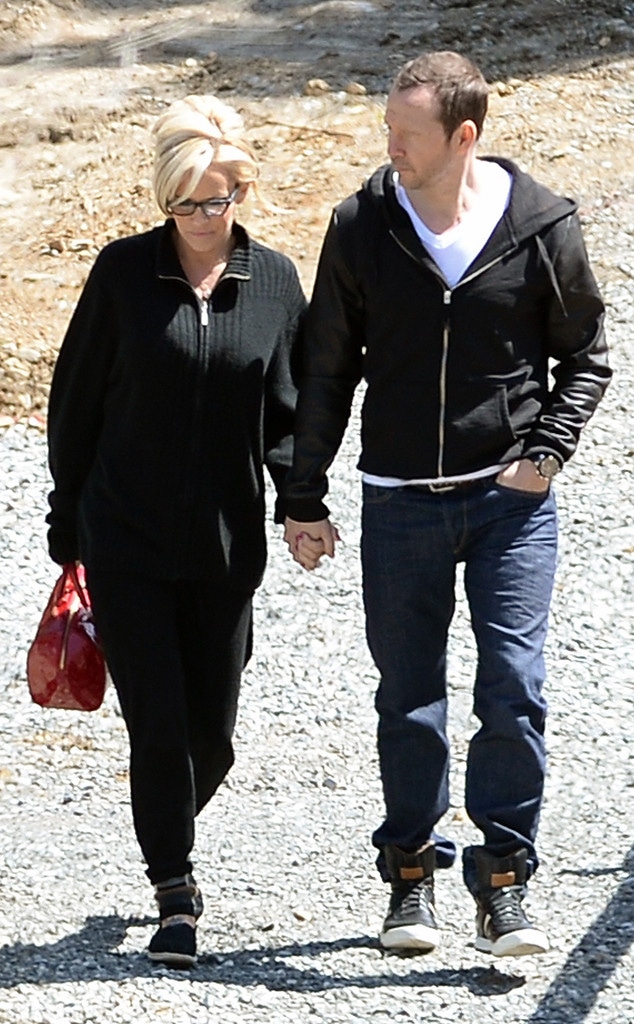 Elder Ordonez/INFphoto.com
Jenny McCarthy probably needs a little extra support on that hand after putting a huge rock on that finger.
The newly engaged actress was spotted engaging (ha, get it?) in some innocent PDA with her beau Donnie Wahlberg while strolling a campsite in upstate New York earlier today. Both McCarthy and Wahlberg were dressed casually and comfortable as they walked along the rocky terrain hand-in-hand.
After announcing that the New Kids on the Block member had proposed to her on yesterday's episode of The View, the 41-year-old talk show host showed off her giant yellow sapphire engagement ring while getting a luxurious Sally Hansen manicure in NYC.
Ya did good, Donnie.
McCarthy explained how the proposal went down and mentioned that her 11-year-old son, Evan, helped Wahlberg.
"This weekend I was sitting with Donnie and he went into the other room and out came Evan with a card that said 'Will.' And he ran away and came back with a card that said 'You,' and I knew what was happening and I just started crying. And then he came out with a card that said 'Marry,' but it was spelled 'Mary,' and the last time Donnie came out with Evan and Evan's shirt said 'Me?' and he was holding the ring. He asked, 'Will you marry me?' I of course said yes. And in that moment, Evan yelled, 'I have another dad! I have another dad.' And it was just—it made all of us cry," she said, getting emotional. "I feel like the luckiest girl in the world. He's so wonderful."
Aw, congratulations!