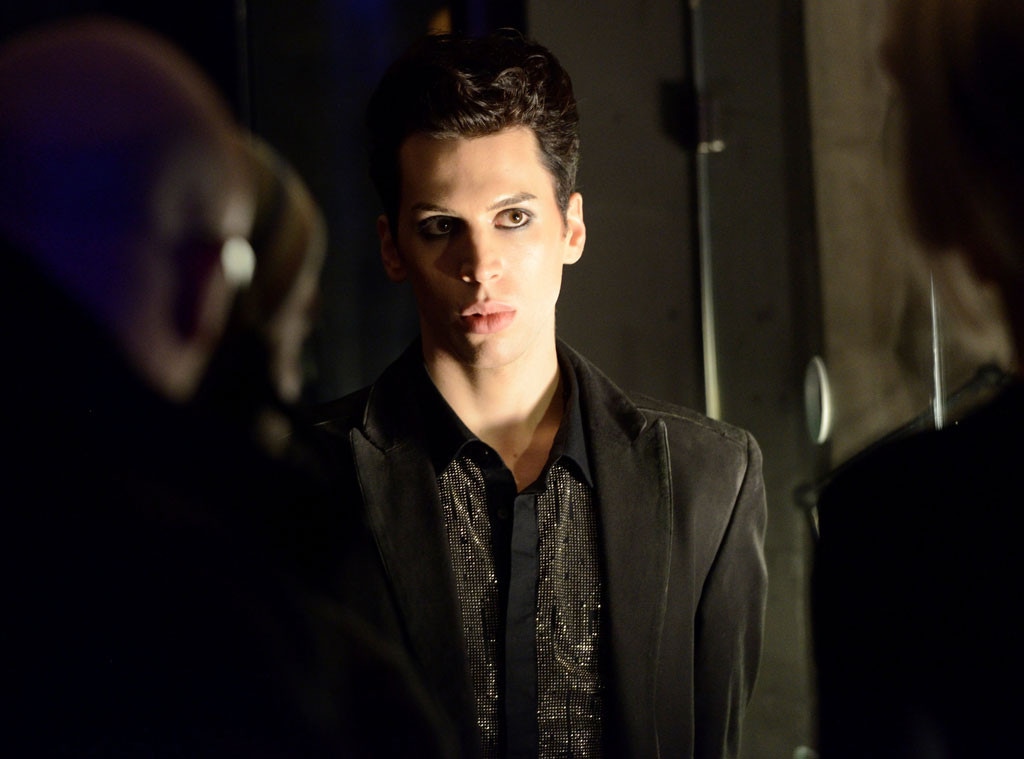 Steve Wilkie/BBC AMERICA
Pull out the drink trolly and fetch us something gay, because it's time to have a chat with Orphan Black's hilarious scene-stealer, Jordan Gavaris.
When Felix (Gavaris) isn't off dancing the night away at a club or asking for "sharesies" on your favorite jagged little pills, he's a full-fledged member of the Clone Club. His special skills include faux acting coach, loyal brother, life of the party, somewhat believable suburbanite, and proficient liar. He also has a master's degree in sarcastic remarks and judging the crap out of anyone within a 50-foot radius. In short, Fee is the best character on the smash hit BBC America series. And considering Orphan Black is jam-packed with and endless amount of Tatiana Maslany's captivating personalities, that's saying something. (Don't believe us? Watch this. We'll wait...He's so great, right?!)
With the premiere of the critically acclaimed series' second season right around the corner, we caught up with Gavaris to discuss all things Fee and find out what's in store for our favorite free spirit painter. Read on for exclusive scoop on Felix's aversion to clothes, his loyalties to Clone Club, a mysterious new lover and so much more!
Let's get straight to it: Tell us about those amazing assless chaps that Felix makes his season two debut in.
Well, those assless chaps were my suggestion, so I can't complain and I'm very sorry that I made that suggestion to a very eager John Fawcett on a plane right to San Diego…I was really inspired by the '80s for Felix's character and I thought, "Wouldn't it be fun to resurrect some of the fetishes in gay clubs and just because we can?" We should because we're representing that community. As we said before, "Clone Club: All are welcome" and I think that is reflected in our characters—all are welcome. Interesting wardrobe choices and all.
The first season of Orphan Black was really about introducing us to all of these fantastically unique clones, now will we get to know Felix a little bit more in season two?
It was something that [creators] John [Fawcett] and Graeme [Manson] and I worked closely on to make sure that we had variance from the first season. I think that season two is for Felix because we spent the majority of season one really examining these three women that Tatiana play. Season two is really about giving Felix an opportunity to really grow and expand as an entity outside of Clone Club as just a human being away from the clone mystery. We really do get to see many sides of Fee this season.
We're obsessed with Fee's friendship with Alison and we know that she's is in for a rough ride this season. What obstacles will these two have to face together?
I think that Alison's journey this season is actually one of my favorites, simply because it takes these dramatic turns. I think that her life is shockingly the most volatile of all the clones, in spite of the fact that Sarah is a walking sh--storm and a bit of a disaster. Alison's life seem to just be the most chaotic, so I think fans can expect kind of a hard left turn. They think that they know where it's going, and there will be a point of contention between she and Donny, but really it's going to take a hard left turn and shock everybody.
It's fascinating that Felix has such a completely different relationship with Alison and Sarah given the fact that they are both played by the same actress.
I think that even audiences can sense that there is kind of an astounding difference in chemistry, which is due in large part to Tat and her immeasurable ability to delineate these different women. But Alison offers me a chance to showcase Felix's lighter side, the artist, the person who gets juiced in the middle of the night when there's a little bit of a crisis because it means he can paint about it later. It also gives me the opportunity to explore my inner weirdo. Whereas Sarah gives me the opportunity to explore the sibling dynamic that I already know.
Which clone are you dying for Fee to share more scenes with?
What I would really like and I'm hoping that this happens in the future, but I would really like to interact with Rachel. I'd be very curious again as to how that character plays out because Rachel is so cold and so harsh, and Felix is so liberated and loose. Felix has so much of what Rachel hates, which is being this liberation, and I think Rachel likes to think that she's in control all the time. I would love to see how she and Felix would interact.
We're already dying over Fee's newest one-liner, "I smell lesbians in my bed last night." Is his friendship with Cosima going to grow this year?
I think naturally this season he has a few more scenes with Cosima because obviously she's in town. That was an interesting dynamic for me because they're not friends, they're not siblings, they're kind of like…They'd be standing next to each other in the room and she'd be like, "Yo dude, wicked pants." And he'd say, "Right yeah, cool hair," and you know they'd kind of stand there awkwardly and eventually start talking.
We are desperate for Felix to have some kind of a love connection, preferably with someone who does not work in a morgue. Is that a possibility?
I can't say much but I can tell you that fans will not be disappointed. There is a particular connection made this season that I think they'll find interesting and satisfying and it's the right thing for the character. It may not be what he expects, but he certainly deserves it.
Every time we're watching Orphan Black we're shocked because we forget that it's just one person playing all of these drastically unique women. Out of all the characters that Tatiana plays, which clone causes you to completely forget that it's her?
I forget all of them, all the time. Every time. Every time she's in hair and makeup and she embodies that character and she's moving and talking like that character and walking and thinking like that character, I'm done; I just buy it. I approach it all with total abandonment, because she forces me to and that's what's so extraordinary about her. Obviously there is a work requirement on our end to make sure the relationship stays delineated, but she is just that good.   
Orphan Black's second season premieres Saturday, April 19 at 9 p.m. on BBC America.