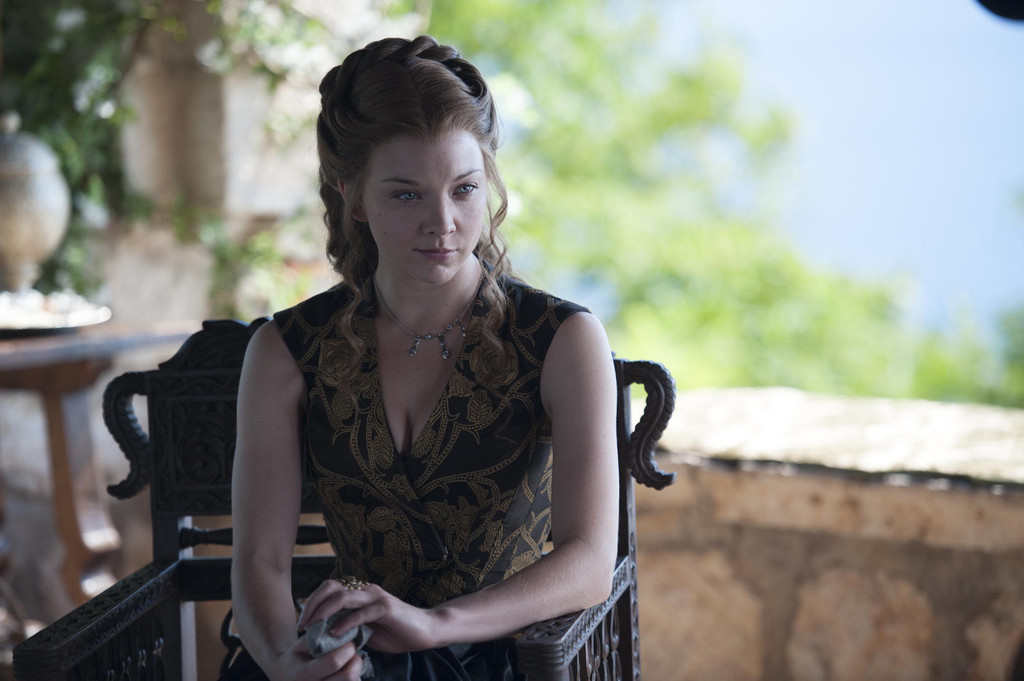 HBO
Happy Easter, everybody! Let's cap off the  holiday with a rundown of Sunday's biggest TV happenings, including a daring escape and a shocking sex scene on Game of Thrones after last week's Purple Wedding shocker, while Mad Men celebrated Valentine's Day and Once Upon a Time featured two very different hookups. Warning, spoilers for Sunday's shows ahead!
Game of Thrones: How do the characters on Game of Thrones mourn their children? By having sex next to their corpse, of course. Which is exactly what Cersei and Jaime, who are also twins, did following last week's Purple Wedding shocker, which saw the death of King Joffrey. (Anyone else still nursing a hangover from their "Yay, Joffrey is dead!" party?)
And though book fans knew the scene was coming, it was a bit different from George R.R. Martin's version, which was Jaime and Cersei having consensual sex. However, during the episode, Jaime raped his sister next to Joffrey's dead body as Cersei told him to stop, and said, "It's not right." Jaime's response? "I don't care." We're curious to hear what fans of the book and non-book readers thought of the controversial moment, so head on down to the comments to discuss the Jaime-Cersei scene.
Oh, and guess who's the new king? Their youngest son, Tommen, who is told by his grandfather, Tywin, "Your brother was not a good king." (Amen. But also, ouch.) And yes, Margaery will now have to wed her second Lannister boy. And you thought your dating life sucked?
Elswhere in King's Landing, Sansa finally got away from the Lannister lion den, escaping with Littlefinger. (Anyone else miss him in the first two eps?!) But it seems like Sansa's safety is still in jeopardy as Littlefinger had Dontos, he who gifted the Stark lady with a necklace and whisked her away just as Joff died, killed and warned Sansa that her quick exit from the wedding makes her a suspect. Can't Sansa catch a freakin' break, Old Gods?!
Mad Men: Oh man, that was a painful Valentine's Day for Peggy, no? Peggy thought she had received flowers at the office, only to later learn they were actually for one of the secretaries. But because the secretary decided not to say anything, Peggy sent a coded thank you message to Ted. Awkward! At least Don had a better Valentine's Day as he and his daughter Sally (All hail Kiernan Shipka!) reconnected thanks to an impromptu date and much-needed honesty session. The day ended with Sally telling Don, "I love you." Aw!
And it seems like Pete has time-traveled to the future and watched The Good Wife because he is taking a page out of the Florrick/Agos handbook. Feeling underappreciated at SC&P, saying, "Sometimes I think I died...I don't seem to exist," it looks like Pete may be plotting to start his own firm. 
Once Upon a Time: Um, can we discuss how Snow and Regina are quickly becoming our new favorite friends on TV?! How did this happen? With Snow's encouragement, Regina ended the hour in a passionate liplock with Robin Hood (Get it, gurl!) Meanwhile, another kiss went down in the episode, one we were less than thrilled about: Zelena and Rumplestiltskin locked lips, but only so he could get his hands on the dagger and stop her plan to go back in time and kill Snow's mother, Ava. (Who was kind of the worst.) Unfortunately, Zelena wasn't fooled and all of our favorites are still in danger. Must be Sunday!
The Good Wife: Welcome to Lockhart/Gardner/Canning. Michael J. Fox returned as Louis Canning, one of our all-time favorite guest stars, and man, did he make an entrance. Diane has now merged the firm with Canning's firm, thanks to some behind-the-scenes scheming by David Lee. Super pissed by Canning's new position? Um, everyone, but that's what makes it so much fun.