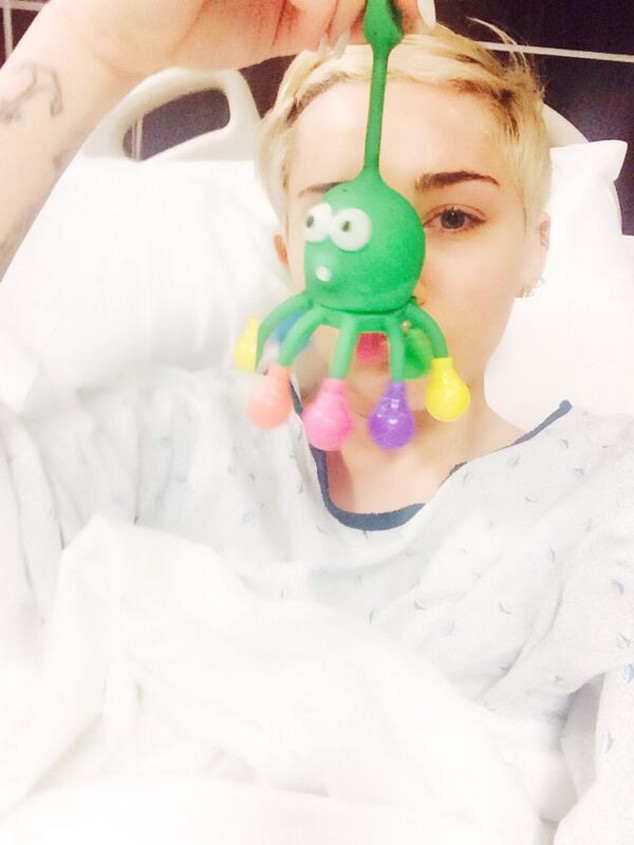 Twitter
Unfortunately, Miley Cyrus isn't back to 100 percent yet.
E! News has learned that the singer will stay at the hospital for her severe allergic reaction, and is "devastated" about missing her Bangerz concerts.
"Miley was suffering from a sinus infection during her tour in N.C. a week ago. She was prescribed the antibiotic cephalexin which she has now suffered an extreme allergic reaction to," Cyrus' rep exclusively tells E! News.
"This type of extreme reaction can last from 5 to 27 days in these types of cases. She will remain hospitalized and is under a Doctor's care until we see some improvement in her condition and is asking for your compassion and privacy at this time. Miley is devastated about missing shows and possibly disappointing her fans."
This morning, Miley tweeted: "I can't get a hold of my team because it is so early so I want to be the one to tell my fans especially the ones trekking to get there...the hospital is sayin i wont b released today...therefore Im not going 2 make it 2 St Louis. Im so sorry but somethings are outta my control."
The singer was admitted to the hospital on Tuesday for what they called "an absolutely horrible reaction" to medication.
"Kansas I promise Im as [heartbroken] as you are. I wanted so badly 2 b there 2night.  Not being with yall makes me feel s--ttier than I already do," she tweeted. She followed up with a photo of herself in the hospital bed, writing, "Mr. Octopussy & some amazing Drs are taking good care of me."
Earlier this month, the pop star came down with the flu and was forced to cancel her concert in Charlotte, and although she was still feeling under the weather, the performer stuck it out and took the stage the night after in Raleigh, N.C.