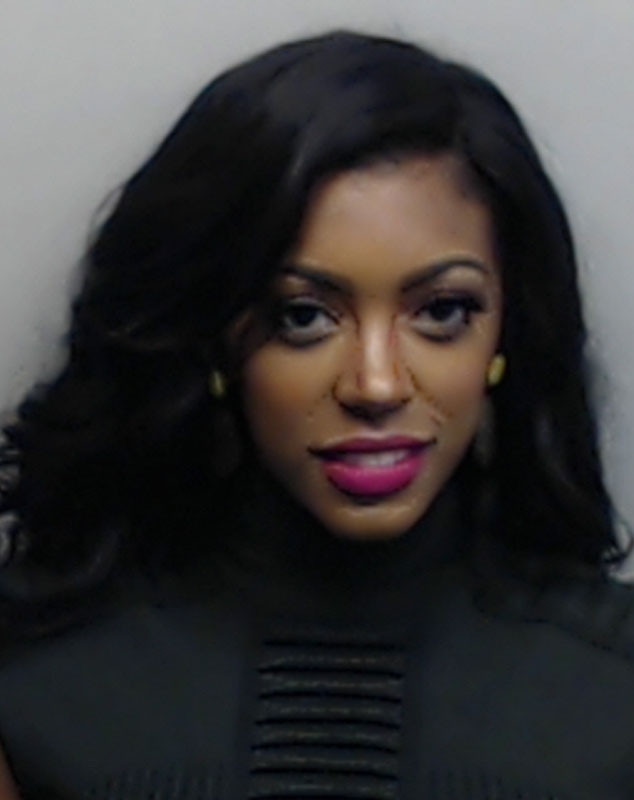 Fulton County Sheriff
UPDATE: E! News has exclusively learned that Porsha Williams has already been booked and released. "She's doing great," source tells us.
____________________________________
Everyone kind of knows that some drama will go down during reunion shows, but this surpassed everyone's expectations.
Real Housewives of Atlanta star Porsha Williams is facing an arrest warrant after getting into a physical altercation with co-star Kenya Moore during the taping of the show's reunion episode (airing on Sunday).
"Porsha Williams will be voluntarily appearing for processing at the Fulton County jail in Atlanta, Ga., tomorrow. We anticipate that she will post a bond and be released shortly thereafter," her rep tells E! News.
"She is charged with one misdemeanor count of simple battery stemming from an incident that occurred during the taping of the Real Housewives of Atlanta Reunion episode. Cast member Kenya Moore sought out the warrant and, although the claim is unfounded, Ms. Williams is fully cooperating with investigators and looks forward to clearing her name."
E! News first learned of the scuffle between Porsha and Kenya in late March, when a source told us "Kenya had been pushing Porsha's buttons and there was a lot of heated conversation back and forth between them."
"Finally, Porsha stood up, which led Kenya to stand up. Porsha charged Kenya. There were a few moments of hair pulling, but it was broken up in a matter of seconds. No one dragged anyone across the floor. A producer, security and even Andy [Cohen] stepped in to quickly separate them. It was a joint effort. In the end, no one was hurt."
Porsha's pal on the show Kandi Burress briefly spoke about the incident during her appearance on Bethenny (airing tomorrow).  "I can't tell you everything, but she was pushed. Yeah, she definitely was provoked, I would think," Kandi said.
"There was an altercation that took place between Kenya [Moore] and Porsha [Williams]," Cohen said on the latest episode of Ask Andy.
"They stood up…I think I stood up pretty quickly. It was such a flash, and it started to escalate," he continued. "I was trying to prevent it, and a couple other people jumped in too. To me, it came out of nowhere...The other women felt Kenya provoked her a bit…I was so shocked and surprised.
"I don't want that to happen. I think it's gross. And I think it just totally inappropriate. It's wrong. It's not entertaining. It's just bad."
(E! and Bravo are both part of the NBCUniversal family.)
Originally published on Wednesday, April 16, 2014 at 3:35 p.m.
—Reporting by Beth Sobol