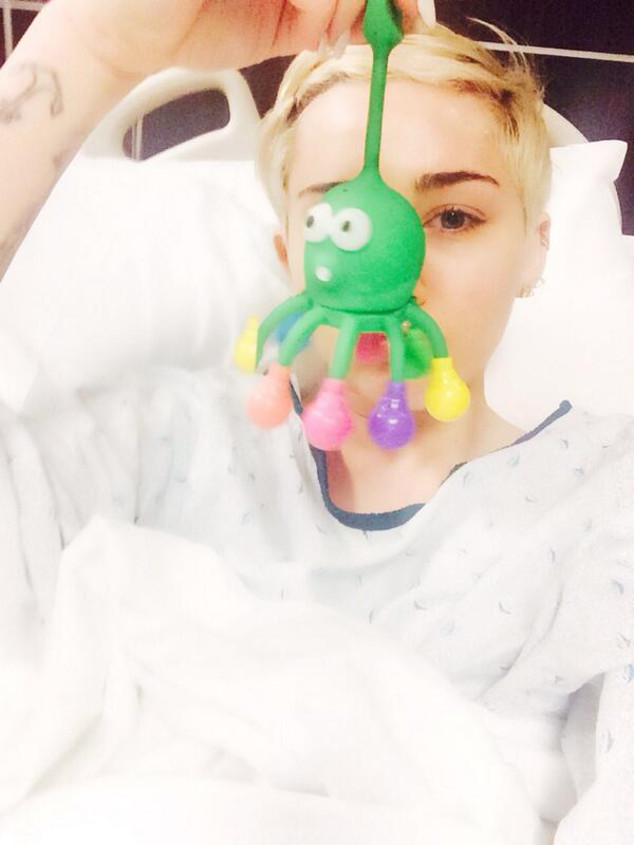 Twitter
UPDATE: Shortly after 8 a.m. CT, Miley tweeted: "I can't get a hold of my team because it is so early so I want to be the one to tell my fans especially the ones trekking to get there...the hospital is sayin i wont b released today...therefore Im not going 2 make it 2 St Louis. Im so sorry but somethings are outta my control."
_____
An "absolutely horrible reaction" to medication sent Miley Cyrus to the hospital Tuesday, forcing her to cancel her Bangerz show in Kansas City that night.
Understandably, the 21-year-old singer was heartbroken, tweeting to bummed out concertgoers, "Not being with y'all makes me feel sh--tier than I already do." And while Miley is being taken care of by "Mr. Octopussy & some amazing Drs," she's still "mizzzzzeraaabbblleeee" and upset.
"I hate this. & I hate hospitals. & I hate needles," she tweeted a fan. "I hate laying in a bad bored AF. & I hate feeling [sh--ty]." The "Adore You" singer, who has been dealing with a number of health issues during her tour lately, also noted, "Hospital TV is wacccckkkkkkk!!!!! #wherestheappletv."