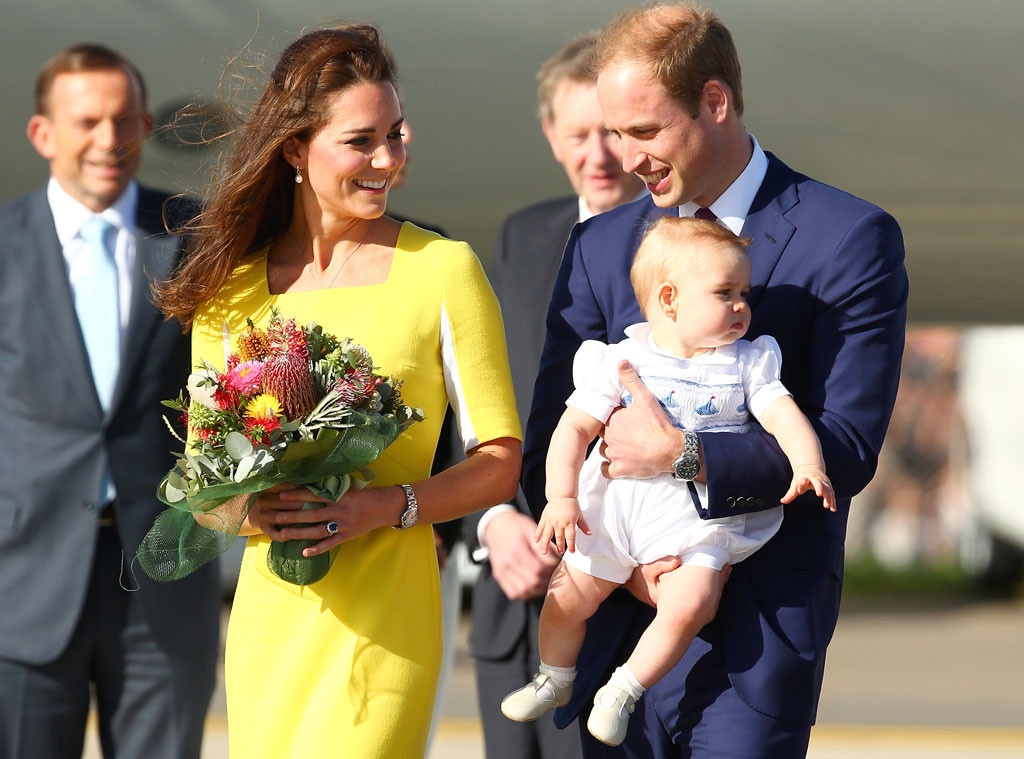 Ryan Pierse/Getty Images
What a warm welcome!
After spending more than a week touring New Zealand, the British royal family—Prince William, Kate Middleton and Prince George—arrived in Sydney, Australia, Wednesday. The Duchess of Cambridge brightened up in Roksanda Ilincic's yellow and white Ryedale dress from the Spring/Summer 2014 collection, but her husband wasn't too keen on the look. "William said I look like a banana," she said.
It's the second time the Duke of Cambridge has publicly questioned his wife's fashion choices. He previously poked fun at her emerald Erdem coat, according to local Bev Hayes. "I complimented her on her green coat. She said she liked it but Prince William thought it was a bit bright," she told reporters.
George, meanwhile, looked adorable as ever wearing the same cardigan he had on when the famous family arrived in Wellington, New Zealand, at the beginning of the royal tour 10 days ago.
The 8-month-old future King of England even shook hands with Lynne Cosgrove, wife of Governor General Sir Peter Cosgrove. His parents took turns holding George before handing him over to his nanny, Maria Teresa Turrion Borrallo. The royal couple then posed for pictures with the Cosgroves.
Chris Jackson/Getty Images
Joscelyn Sweeney, a 22-year-old from the beach town of Vincentia, presented Middleton with a bouquet of native flowers. "She's so nice," she said. "And I brought a book for Prince George to read."
The Duke and Duchess of Cambridge then met with a legion of fans outside Sydney's Opera House.
William gave a short speech at the iconic landmark, and mentioned his late mother, Princess Diana.
"Thank you for your warm welcome," the second in line to the throne began. "Your Excellency, Sir Nicholas, Mr. President, thank you for inviting me and Catherine this afternoon. There cannot be a more impressive place than the iconic Sydney Opera House to begin our first visit together to Australia. I know that New South Wales is a very special place, and Catherine and I are looking forward to seeing that for ourselves over the coming days. My last visit to Australia—in 2011—was at a sad and testing time for the nation. A cyclone followed by flooding had devastated lives and property in Queensland, and bush fires had ravaged the State of Victoria. I am sorry to return to find that, yet again, fellow Australians in north Queensland are coping with the aftermath of another destructive cyclone."
SAEED KHAN/AFP/Getty Images
"Australia has much to contend with at the moment: your contribution to the ongoing search for MH370 has earned respect in every quarter of the globe," he continued. "Australia's determined and leading role in the search is at the very edge of technological ability and human endurance."
"You have also responded with great generosity in the past few days to the natural disaster afflicting the Solomon Islands, which is suffering dreadfully from floods and successive earthquakes. Australia has led the international response in a way that is testament to the strength of your partnerships with your neighbors, and the important role that Australia plays both regionally and globally."
"This visit to Australia has been one that Catherine and I have been looking forward to for a long time.  On my first visit here as an adult in 2010, I remember just how bowled over I was by Sydney: seeing the energy and diversity of this beautiful city, and understanding just how much Australia is the home of innovation, opportunity and possibility. I was well prepared: the affection that my grandmother The Queen has for this nation is infectious," he said. "Her Majesty spoke recently of how, since her first visit here 60 years ago, she has been privileged to witness Australia's growing economy and flowering self-confidence."
"For Catherine, Harry and me, born in the early '80s, we've never known anything else—Australia and Australians have always been for us a beacon of confidence, creativity in the arts and sporting ability."
David Foote /Admiralty House via Getty Images
"Harry felt very honored to be invited to the centenary Fleet Review in Sydney Harbor last year; and I know how much my father enjoyed his visit here in honor of The Queen's Diamond Jubilee. My mother's deep affection for Australia—which you were so kind to reciprocate—needs no reminder."
"I don't think I could finish these brief words to you without mentioning one other family member, George, who is now busy forging his own link with Australia. Catherine and I were very grateful for the many kind messages and gifts from across the country that we received when George was born.  I suspect George's first word might be 'bilby'—only because 'koala' is harder to say. We really look forward to our time here together as a family," he said. "Australia is an inspiring place, as this amazing Opera House shows so vividly, and I know that a truly unforgettable few days lie ahead. Thank you."
After William's speech, the royals were taken by police boat to Admiralty House. While there, George received a plush wombat from the Governor-General. The Duke and Duchess have no official engagements scheduled for Wednesday night and will head to the Blue Mountains Thursday.