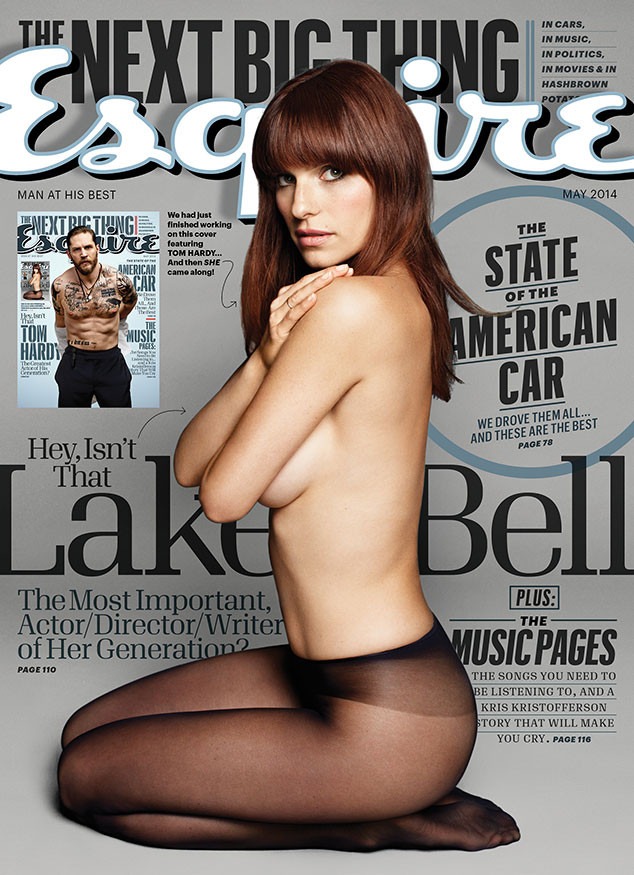 Derek Kettela/Esquire
Tom Hardy didn't worry much about wardrobe for his half-naked Esquire cover, and neither did Lake Bell!
The 35-year-old actress/writer/director posed completely topless on the mag's May 2014 cover, wearing only a pair of sheer back tights. Although the In a World star crosses her arms strategically to keep things PG-13, she does reveal some impressive side boob, a taut tummy and a slender physique.
This isn't the first time, however, that the so-called Indie It Girl has shown some serious skin for the glossies. In August 2013, the brunette beauty graced the cover of New York Magazine completely in the nude, keeping her modesty preserved thanks to the cover graphics, a fake tattoo and a well-placed hand down south.
Shortly after the salacious cover hit stands, Lake spoke with HitFix.com, stating very obviously, "I'm not squeamish being nude!"
"I've done it in the past, and I really don't care," she explained. "I have a sense of humor about nudity and all that. It's like, 'Hey, so what, we all get naked.' In a more serious way, there is a female empowerment–there is something powering about being nude–and just owning it."