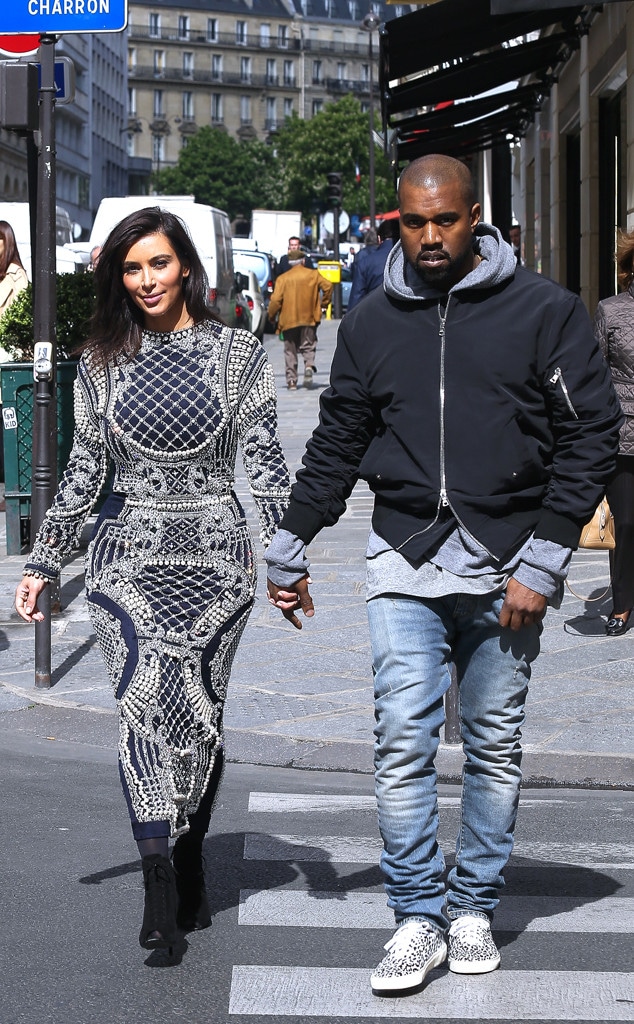 Marc Piasecki/GC Images
Kim Kardashian and Kanye West are enjoying a romantic trip in the City of Light!
The 33-year-old beauty arrived in Paris on Saturday to meet up with her man. The two then worked out at Usine Gym Center together before their busy day on Sunday which included a bit of high-end shopping in addition to visiting a famous venue amid mounting speculation that the couple is in the early stages of wedding planning.
On Sunday, Kim visited Château de Versailles construit à Louveciennes, where she spent an hour meeting with the staff and walking around the grounds of the property.
According to an eyewitness, "Kim was so happy and enjoyed looking at all the beautiful details. She asked a few questions and seemed excited to be there. She shook hands with everyone and then left with a chauffeur."
Afterwards she met up with Kanye and the lovebirds went shopping at Givency, Balmain and Lanvin, where Kim undoubtedly snagged a few luxurious purchases.
The E! star is expected to return to the U.S. today.
Kim and Kanye most recently made headlines after reports claimed that the couple's wedding plans have come to a "halt," however a a Kardashian source told E! News there's no truth to the latest round of Kimye rumors, adding that the reports are "completely false."
Kim most recently told Ryan Seacrest that she and Yeezy are planning a "super, super-small intimate" wedding. "As we are going along, we realize we want it to be smaller and more intimate than people are imagining and thinking," North West's mama said.
The Keeping Up With the Kardashians star also said that she and the 36-year-old rapper, who have yet to set an official date, are both involved in the preparations for the big day. "There's certain things I'm like, 'I know you're going to hate the seating chart, so I'll take care of this,'" she revealed, "and then there's some things that are really important to him. [But] the seating chart is like death."