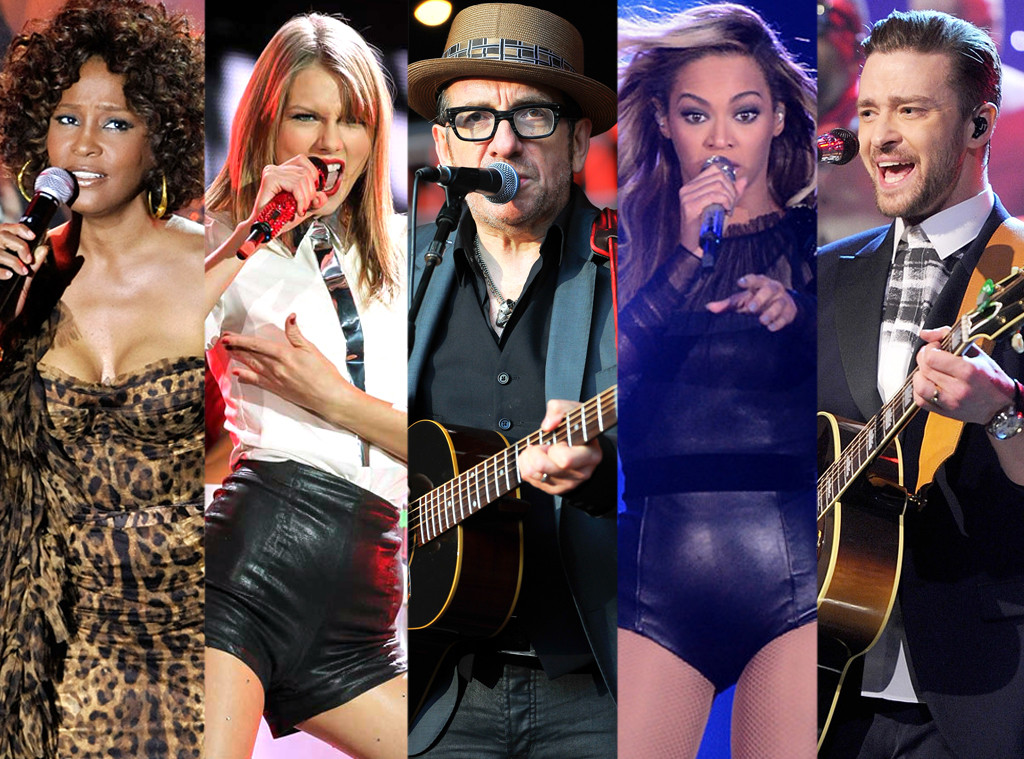 REX USA/Attila Szilvasi/Newspix, Ian Gavan/Getty Images for Gucci, Jamie McCarthy/Getty Images for The Tonight Show Starring Jimmy Fallon, Kevin Winter/Getty Images, Steve Jennings/WireImage
Breaking up is hard to do. Sorry, let us rephrase that…
Breaking up is a horrifying pain in the ass. And yes, you can get by with a little help from your friends. Or you can drown your sorrows with buckets and buckets of clichés: ice cream, potato chips and/or chocolate. Or better yet: ice cream mixed with chocolate-covered potato chips. Don't knock it.
But what you need, what you really need to get through a breakup is an anthem. You need that one song that gives you comfort when all you want to do is cocoon yourself in blankets and pillows in an effort to keep the pain out. And since pretty much every person on this planet will go through a breakup at one time or another, we've rounded up the best breakup songs we could find to help ease the transition from in love to "I want to die." Some of the tunes are old faithfuls, while others might be something you haven't heard before. Either way, we know that you'll find what you're looking for somewhere on this list.
For your convenience, we've divided the songs up by sections based on where you are in the splitting up stages and how you're feeling. Angry? Heartbroken? Ready to move on? There's a song for that:
When You're Heartbroken
Sinéad O'Connor - "Nothing compares 2 U"

Choice Lyrics: "Nothing can stop these lonely tears from falling / Tell me baby, where did I go wrong?"
Frank Ocean - "Thinkin Bout You"
Choice Lyrics: "It won't ever get old, not in my soul / Not in my spirit, keep it alive"
Taylor Swift - "All Too Well"
Choice Lyrics: "You called me up again just to break me like a promise / So casually cruel in the name of being honest"
Dashboard Confessional - "Screaming Infidelities"
Choice Lyrics: "I'm missing your bed, I never sleep / Avoiding the spots where we'd have to speak / And this bottle of beast is taking me home"
Kristen Vigard/Elvis Costello - "God Give Me Strength"
Choice Lyrics: "She was the light that I'd bless / She took my last chance of happiness / So God give me strength"
Roxette - "It Must Have Been Love"
Choice Lyrics: "It must have been love, but it's over now / It must have been good but, I lost it somehow"
The Cranberries - "Linger"

Choice Lyrics: "If you could get by, trying not to lie / Things wouldn't be so confused and I wouldn't feel so used / But you always really knew, I just wanna be with you"
Toni Braxton - "Un-Break My Heart"
Choice Lyrics: "Take back that sad word goodbye / Bring back the joy to my life / Don't leave me here with these tears / Come and kiss this pain away"
Missy Higgins - "Drowning"
Choice Lyrics: "When the one you leave is the one thing you believe / You say goodbye when underneath's your one belief that love rules all, conquers all"
Lauryn Hill - "Ex-Factor" 
Choice Lyrics: "I keep letting you back in / How can I explain myself / As painful as this thing has been, I just can't be with no one else"
Bonnie Tyler - "Total Eclipse of the Heart" 
Choice Lyrics: "Once upon a time I was falling in love / Now I'm only falling apart"
Jeff Buckley - "Lover, You Should've Come Over"
Choice Lyrics: "Sometimes a man gets carried away, when he feels like he should be having his fun / And much too blind to see the damage he's done"
Bill Withers - "Ain't No Sunshine (When She's Gone)"
Choice Lyrics: "Ain't no sunshine when she's gone / And this house just ain't no home anytime she goes away"
Smokey Robinson & The Miracles - "The Tracks of My Tears"
Choice Lyrics: "Outside I'm masquerading, inside my hope is fading / I'm just a clown since you put me down / My smile is my makeup I wear since my breakup with you"
Bonnie Raitt - "I Can't Make You Love Me" 
Choice Lyrics: "I'll close my eyes, then I won't see / The love you don't feel when you're holding me"
Neil Sedaka - "Breaking Up Is Hard to Do"
Choice Lyrics: "Don't take your love away from me / Don't you leave my heart in misery / If you go then I'll be blue / 'Cause breaking up is hard to do"
Ron Pope - "A Drop in the Ocean"
Choice Lyrics: "It's just a drop in the ocean, a change in the weather / I was praying that you and me might end up together"
Kelly Clarkson - "Cry"
Choice Lyrics: "Is it over yet / Can I open my eyes / Is this as hard as it gets / Is this what it feels like to really cry"
Lana Del Rey - "Without You"
Choice Lyrics: "I'm nothing without you / All my dreams and all the lights mean nothing without you"
Snow Patrol - "You Could Be Happy"
Choice Lyrics: "And all the things that I wished I had not said / Are played in loops 'till it's madness in my head"
When You're Pissed
Adele - "Rolling In The Deep"
Choice Lyrics: "See how I leave with every piece of you / Don't underestimate the things that I will do"
Eamon - "F--k It (I Don't Want You Back)"

Choice Lyrics: "F--k what I said, it don't mean s--t now / F--k the presents might as well throw 'em out"
Beyoncé - "Ring the Alarm"
Choice Lyrics: "I been through this too long / But I'll be damned if I see another chick on your arm"
Alanis Morissette - "You Oughta Know"
Choice Lyrics: "And every time I scratch my nails down someone else's back / I hope you feel it, well can you feel it?"
Justin Timberlake - "Cry Me a River"
Choice Lyrics: "Your bridges were burned, and now it's your turn to cry / Cry me a river"
Gotye - "Somebody That I Used To Know"
Choice Lyrics: "So when we found that we could not make sense / Well you said that we would still be friends / But I'll admit that I was glad it was over"
Damien Rice - "Rootless Tree"
Choice Lyrics: "F--k you, f--k you, f--k you, and all we've been through / I said leave it, leave it, leave it / There's nothing in you"
All American Rejects - "Gives You Hell"
Choice Lyrics: "And truth be told I miss you / And truth be told I'm lying"
Carly Simon - "You're So Vain"
Choice Lyrics: "You're so vain, I'll bet you think this song is about you / Don't you? Don't You?"
Miley Cyrus -  "7 Things"
Choice Lyrics: "And when you mean it, I'll believe it / If you text it, I'll delete it / Let's be clear / Oh, I'm not coming back"
The Cab - "Risky Business"
Choice Lyrics: "Maybe I'll call him up and call you out / Maybe next time you should turn around"
Cee Lo Green - "F--k You" 
Choice Lyrics: "I guess he's an Xbox and I'm more an Atari / But the way you play your game ain't fair / I pity the fool that falls in love with you"
Miranda Lambert - "Kerosene"
Choice Lyrics: "Now I don't hate the one who left / You can't hate someone who's dead"
When You Know You're Better Off
Beyoncé - "Irreplaceable"

Choice Lyrics: "Baby I won't shed a tear for you / I won't lose a wink of sleep / 'Cause the truth of the matter is replacing you is so easy"
Carrie Underwood - "Before He Cheats"
Choice Lyrics: "I might've saved a little trouble for the next girl / 'cause the next time that he cheats, oh, you know it won't be on me"
Britney Spears - "Stronger"
Choice Lyrics: "Stronger than yesterday / Now it's nothing but my way / My loneliness ain't killing me no more"
Kelly Clarkson - "Since U Been Gone"
Choice Lyrics: "You had your chance you blew it / Out of sight, out of mind / Shut your mouth I just can't take it"
Sara Bareilles - "King of Anything"
Choice Lyrics: "So let me thank you for your time / And try to not waste any more of mine / Get out of here fast"
Destiny's Child - "Survivor"
Choice Lyrics: "After of all of the darkness and sadness / Soon comes happiness / If I surround myself with positive things, I'll gain prosperity"
John Legend - "Used to Love U" 
Choice Lyrics: "But I'm tired of livin' this lie / It's getting harder to justify / I realized that I just don't love you"
The Beatles - "I'm Looking Through You" 
Choice Lyrics: "You were above me, but not today / The only difference is you're down there / I'm looking through you, and you're nowhere"
Christina Aguilera - "Fighter"
Choice Lyrics: "Made my skin a little bit thicker / Makes me that much smarter / So thanks for making me a fighter"
When You Want Them Back
Ingrid Michaelson - "The Chain"
Choice Lyrics: "And if you come around again / Then I will take the chain from off the door"
'NSYNC - "I Thought She Knew"
Choice Lyrics: "A heart full of words left unspoken / Now that we're through, I'd sell my soul to have this silence broken"
Phil Collins - "Against All Odds" 
Choice Lyrics: "How can you just walk away from me, when all I can do is watch you leave / 'Cause we shared the laughter and the pain, and even shared the tears / You're the only one who really knew me at all"
Fiona Apple - "Criminal"
Choice Lyrics: "And I need to be redeemed to the one I've sinned against / Because he's all I ever knew of love"
Lady Antebellum - "Need You Now"
Choice Lyrics: "Another shot of whiskey, can't stop looking at the door / wishing you'd come sweeping in the way you did before / And I wonder if I ever cross your mind"
Choice Lyrics: "And they're not us, and it's not California here / I'm the one who wants to be with you tonight"
Britney Spears - Everytime
Choice Lyrics: "And everytime I try to fly, I fall / Without my wings, I feel so small / I guess I need you baby"
When You Just Want to Dance
Beyoncé - "Single Ladies"
Choice Lyrics: "'Cause if you liked it then you should have put a ring on it"
Gloria Gaynor - "I Will Survive"
Choice Lyrics: "I'm not that chained up little person still in love with you / and so you felt like dropping in and just expect me to be free / and now I'm saving all my loving for someone who's loving me"
"We Are Never Ever Getting Back Together" - Taylor Swift
Choice Lyrics: "You go talk to your friends, talk to my friends, talk to me / But we are never ever ever ever getting back together"
P!nk - "So What"
Choice Lyrics: "So, so what, I'm still a rock star / I got my rock moves / And I don't need you"
Robyn - "Dancing On My Own"
Choice Lyrics: "The lights go on, the music dies / But you don't see me standing here / I just came to say goodbye"
When You're Ready to Move On and/or It Was an Amicable Breakup
Adele - "Someone Like You"
Choice Lyrics: "Never mind, I'll find someone like you / I wish nothing but the best for you, too"
Ingrid Michaelson - "Girls Chase Boys"
Choice Lyrics: "All the broken hearts in the world still beat / Let's not make it harder than it has to be"
The Band Perry - "Done."
Choice Lyrics: "Mama always told me that I should play nice / But she didn't know you when she gave me that advice / I'm through with you"
Mozella - "Light Years Away"
Choice Lyrics: "I think that I cried for days / But now that seems light years away / And I'm never going back to who I was"
Teddy Pendergrass - "I Don't Love You Anymore"
Choice Lyrics: "I don't love you anymore / It's just that simple"
Rascal Flatts - "I'm Moving On"
Choice Lyrics: "I've loved like I should, but lived like I shouldn't / I had to lose everything to find out / Maybe forgiveness will find me somewhere down this road"
Whitney Houston/Dolly Parton - "I Will Always Love You" 
Choice Lyrics: "Bittersweet memories / That is all I'm taking with me / So goodbye, please don't cry / We both know I'm not what you need"
So what's your favorite song to get you through a breakup? Write it in the comments below and let's make this ultimate playlist even better!