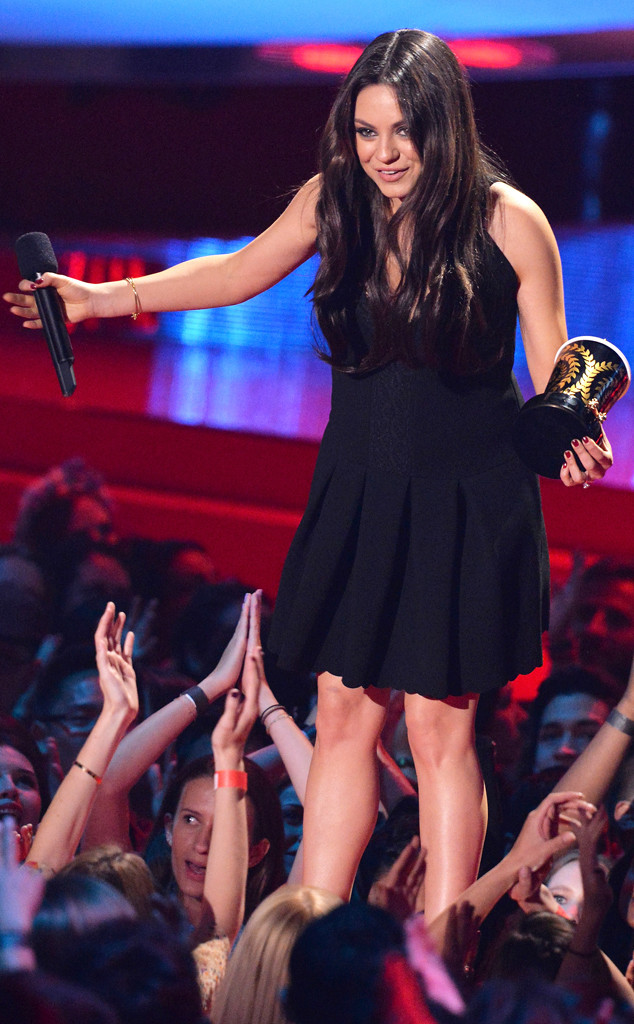 Lester Cohen/WireImage
Mila Kunis brought her baby bump to the MTV Movie Awards Sunday!
The Jupiter Ascendingactress, who skipped the red carpet earlier this evening, showed off her greatest curve when she took the stage in an adorable little black dress to accept the award for Best Villain. The mom-to-be accessorized her Thakoon scalloped hem dress with Jemma Wynne bangles and Nak Armstrong earrings.
"Listen you guys. You just made my 12-year-old self's dream come true," Kunis told the crowd. "This is by the far the coolest award and I just realized I was the only woman nominated, and I won. So thank you guys."
Kunis was nominated for her role as Theodora, the Wicked Witch of the West, in Disney's Oz the Great and Powerful. The 30-year-old actress was the sole female in the running, going up against fellow nominees Barkhad Abdi (Captain Phillips), Benedict Cumberbatch (Star Trek Into Darkness), Michael Fassbender (12 Years a Slave) and Donald Sutherland (The Hunger Games: Catching Fire).