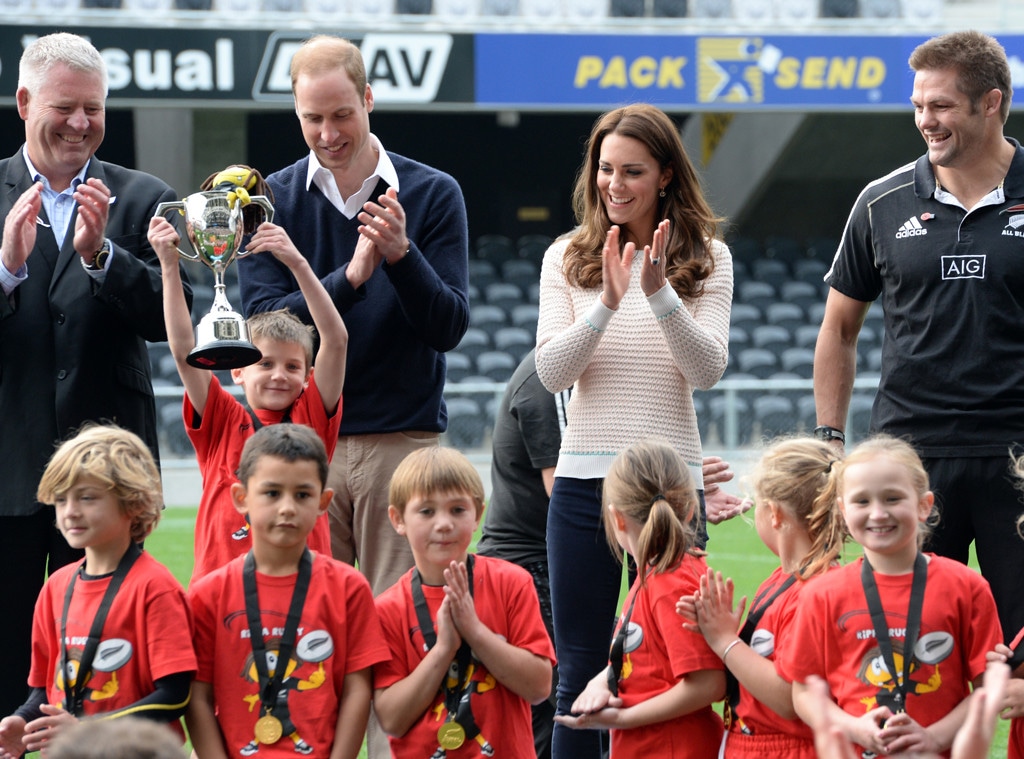 Anthony Devlin - Pool/Getty Images
Prince William suffered a crushing defeat as he lost to Kate Middleton not once, but twice, during a yachting race on Friday. But the Duke of Cambridge regained royal bragging rights as he led his "Rippa Rugy" team to victory against their opponents, the Duchess of Cambridge's group.
The fun-spirited match, coached by the competitive couple, was held at the Forsyth Barr Stadium in Dunedin, New Zealand on Sunday. The two enthusiastic teams of youngsters featured children who won through to the final of a day-long tag rugby tournament for five to seven-year-olds. 
At the end of the match, the 31-year-old punched the air in delight with both fists and could not help but tease the 32-year-old and quipped in her direction, "next time, next time."
Danny Martindale/WireImage
Rippa rugby is a non-contact form of the game, which is designed for kids. Players rip a flag from the belt of an opponent instead of tackling them.
Huriana Manuel, captain of New Zealand's women's rugby sevens team, worked with William in supporting the winning Clutha team from South Otago. She said the Duke was determined to win.
"He brought something special to the team, he's lost a few competitions to his wife and he really wanted to win," Manuel said. "He said to the kids, 'Make sure you go out there and enjoy yourself', and the win followed from that."
New Zealand All Blacks captain Richie McCaw supported Kate as she led the Pirates from Dunedin.
Anthony Devlin - Pool/Getty Images
Prince George's mom was sporty and appropriately dressed in a cream Jonathan Saunders sweater, dark skinny jeans and Mint Velvet grey suede sneakers.
Gemma Tuhega, a teacher who was with the Pirates, said about Kate: "She didn't know too much about the game, she was getting to know the kids."
William and Kate awarded all of the children with medals and McCaw joked that the scores were now even between the royal couple and things are "leveled up."
Pool/Samir Hussein/WireImage
William and Kate, who was clad in an aquamarine dress by New Zealand designer Emilia Wickstead and a Jane Taylor hat, began their day at the Dunedin Airport and were greeted by members of the Ngai Tahu tribe.
The elders from the tribe, led a welcome—or Powhiri—which involved chanting at the couple from some distance before inviting them forward.
William and Kate were also given a traditional Maori welcome—or hongi—which involves pressing their noses and foreheads to the elders' noses and foreheads.
Kate received a hug and a curtsey from five-year-old Dunedin native Mataawhio Matahaere-vieint, who had been practicing for days.
"I asked if I could hug her and she said yes, she was beautiful," the little girl said.