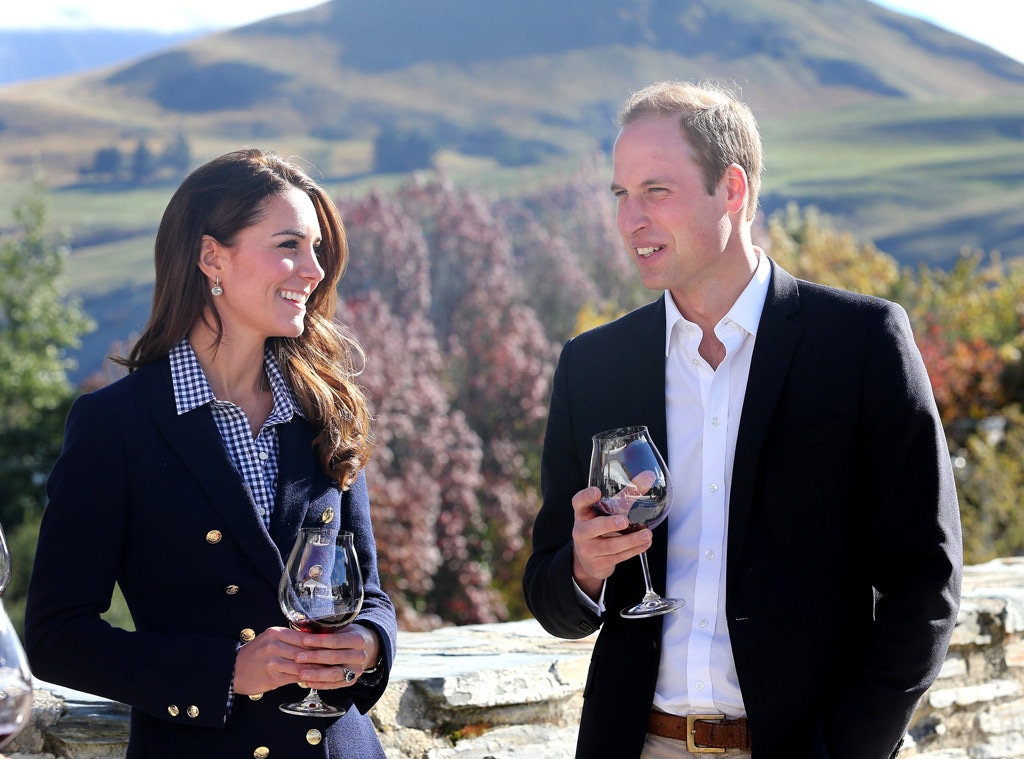 Pool/Samir Hussein/WireImage
It only took one day for Kate Middleton to squash the pregnancy rumors as she enjoyed several glasses of local wines during a visit to Otago Wines at Amisfield winery in Queenstown, New Zealand on Sunday.
Prince William jokingly told a woman, who made Prince George a gift, that she "might have to make another one soon" on Saturday.

The 32-year-old, who looked casual chic in a Zara navy blue blazer, a Gap blouse, dark skinny jeans and Stuart Weitzman wedges, told the wine-makers that she was "really enjoying being able to drink again after having baby George."
John Darby, owner of the Amisfield vineyard, explained to the Duke and Duchess of Cambridge how they control the grapes in the climate.
Pool/Samir Hussein/WireImage
"When it gets very cold, we use helicopters to stop the frost over the vines by hovering above and stirring up the cold air," Darby said.
"You're joking! That's an expensive way to do it!" William said and added, "Wow! If you ever need a spare pilot, I'm here!"
Darby also treated the royals to a tour of the vineyard. He later told reporters: "I think the Duchess was more interested in the gardening—she seemed quite  knowledgeable in the pruning aspect of the vines."
During the walk around the grounds, Kate nearly took a tumble in her wedges, but she quickly grabbed William's arm to re-gain her balance.
A grinning Kate tried several varieties and tastes, including Aurum pinot gris and Remarkable dry Riesling.
Hannah Armstrong, from Mudhouse Wines, said: "Kate said she hadn't drunk whilst pregnant with George and although she doesn't drink much, she was really enjoying the odd glass."
Danny Martindale/WireImage
Kate continued to debunk the speculation about baby No.2, as the royal couple went white-water rafting in the Shotover Jet, along the Shotover River in Queenstown.
The duo, clad in their waterproof jackets and personalized red life vests, was beaming during the 25-minute exhilarating ride. The jet was driven by highly-experienced Shotover Jet Operations Manager Wayne Paton and other passengers in the jet boat included members of the royal entourage, Ngāi Tahu Kaiwhakahaere (tribal chairperson) Sir Mark Solomon, and a group of Ngāi Tahu youth who "show tribal and business leadership potential."
After the thrilling trip, Kate and William broke into applause.
Danny Martindale/WireImage