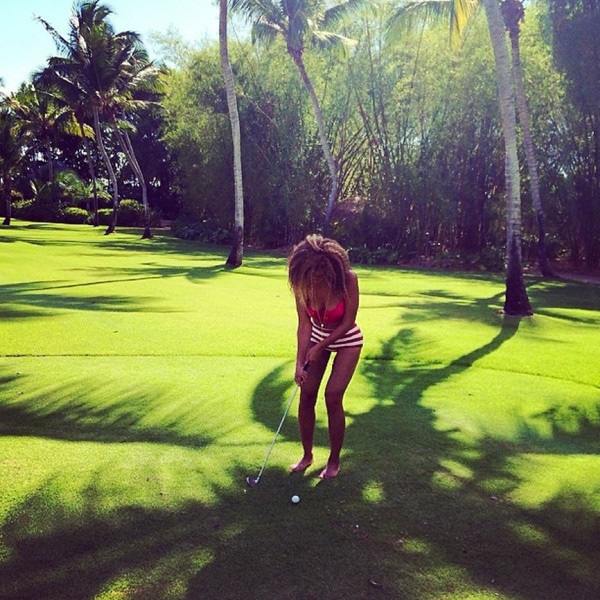 Instagram
Did Beyoncé Photoshop her famous curves in favor of a thigh gap?
Those are the latest claims surrounding the superstar after she posted a pic while on vacation in the Dominican Republican with hubby Jay Z.
Queen Bey shared an Instagram shot in which she's playing golf, posing with her body slightly bent over in her red-and-white-striped bikini. Her stance created a space between her legs, commonly referred to as a "thigh gap," which caused many of the singer's Instagram followers to accuse the beauty of Photoshopping a larger space between her enviable gams. 
"Love you as you are - real. This s--tty photoshop is sad and disappointing, truly," user @bonjourvieve commented on the pic.
"really @Beyonce? we all love your thick thighs. NO reason to Photoshop a thigh gap in there.." @MariaBee added.
Bey has yet to respond to the debate, although it is possible that the pic is untouched, considering the singer was sporting a much smaller frame at the 2014 Grammys.
Prior to the show, the singer embarked on a 22-day vegan diet, during which she also kept up with her super-strict workouts in order to maintain her bootylicious shape.
Blue Ivy's mother and father are currently celebrating their sixth wedding anniversary with a tropical getaway to the Dominican Republic. Although the pair have kept their romantic trip private, Bey did share a fresh-faced photo of herself rocking a bikini by the water.
Bey recently finished her long-running Mrs. Carter Show world tour. The 32-year-old musician has performed more than 100 concerts, first taking the stage on Apr. 15, 2013, in Belgrade, Serbia, and she couldn't help but get emotional during her final show in Portugal.
"I want a [spotlight]. I want them to see me," she said. "If you all don't know, tonight makes 132 shows. Tonight is the last show of the Mrs. Carter Show. We started a year ago, and I want to say this has been such a journey. In the past year, we've been through so much together. The Super Bowl, shooting the videos, all of these shows. When I first started the tour, my baby was not even walking yet. I just want you to know that I am so lucky."