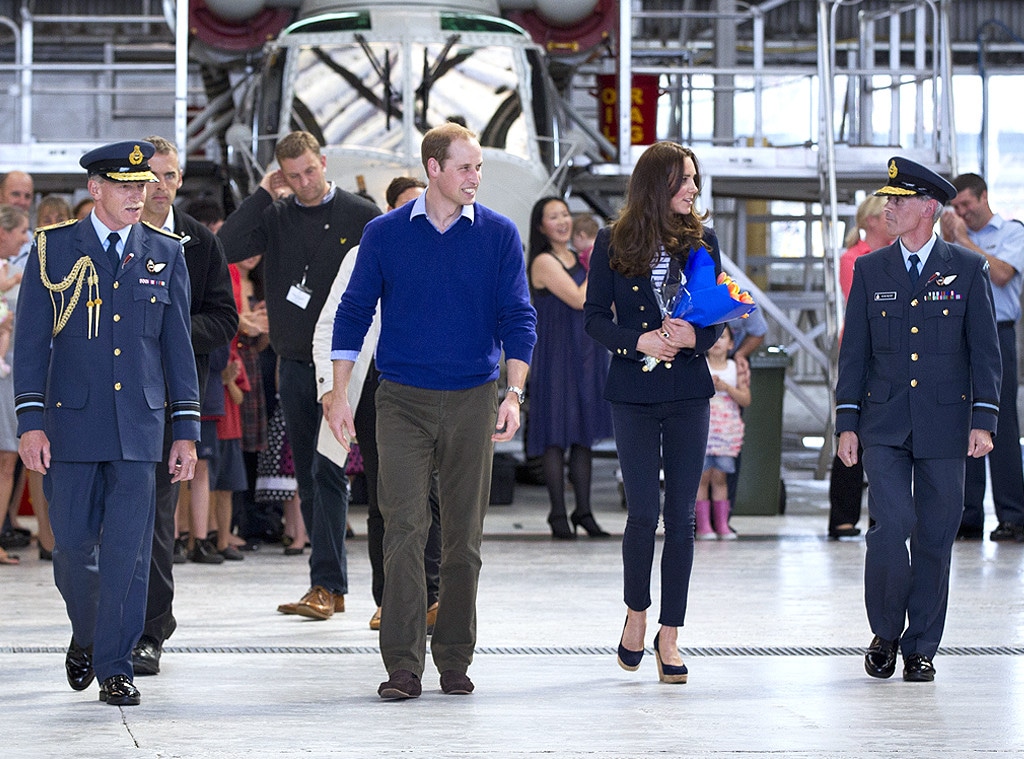 Sarah Ivey-Pool/Getty Images
The royals are taking to New Zealand like ducks to water!
Prince William and Kate Middleton flew from Wellington to the Royal New Zealand Air Force base of Whenuapai, near Auckland, Friday. Upon their arrival, the royal couple happily chatted with locals about their 8-month-old son, Prince George, and the Duke of Cambridge joked that he and his wife had "a fair few babies touted to us" as potential girlfriends for the third in line to the British throne.
William, 31, also admitted that he found the first five months of fatherhood tough, but added that "things got a bit easier" in recent months. Middleton, 32, told another mother that she simply learned "to get by" while her husband was away working during the first few months after George's July birth.
George, meanwhile, stayed behind in Wellington with his nanny, Maria Teresa Turrion Borrallo. The royal family has been based at the city's Government House for the New Zealand leg of their tour.
Jason Oxenham/Getty Images
Middleton wore her most relaxed look yet for the excursion. She paired her dark skinny jeans with a double-breasted Zara jacket with gold buttons, a Breton top from Me + Em, £695 Grace Collection white topaz and diamond stud earrings by London jeweler Kiki McDonough and wedge heels.
William, who is a retired RAF search and rescue pilot, spent a fair amount of time admiring the aircraft, chatting with base personnel and thanking the military staff and their families for their service.
Later that afternoon, the royals boarded separate Emirates Team New Zealand Americas Cup yachts. They wore waterproof jackets and Middleton removed her wedges in favor of more practical footwear.
Hannah Peters/Getty Images
Prior to the race, William predicted there would be "healthy competition" between him and his wife once they hit the water. He sailed with Team New Zealand manager Grant Dalton, while Middleton steered her yacht with Team New Zealand skipper Dean Barker.
"Take care!" Middleton teased her husband, patting him on the back. "Yeah, see you later," he replied. In the end, she finished in first place.
According to Haagh, "William was a bit nervous at the start. These boats are very powerful and he just wanted to get on the grinder to begin with. When we wiped out because of the problem with the sail we were near to some rocks and William said, 'That'll be a good photo.' William was a good sailor but Kate pushed us around into a bad position. She did very well. William was very competitive right from the start—he didn't want to lose. When Kate won both the races he just said, 'At least she'll be happy.'"
Back on dry land, William joked, "We were sabotaged." When someone said that Middleton was looking pleased after her big win, he replied, "I bet she is. Selfless husband. I wanted a quiet night."
The event was similar to the Dragon Boat race they competed in during 2011's North American tour.
Afterwards, the couple departed Queen City aboard the "Sealegs" amphibious aircraft. After a short ride ot the marina, they were given their very own mini-Sealegs vessel, complete with a huge red bow. They then returned to the Whenuapai Air Force base to catch their hour-long flight back to Wellington.