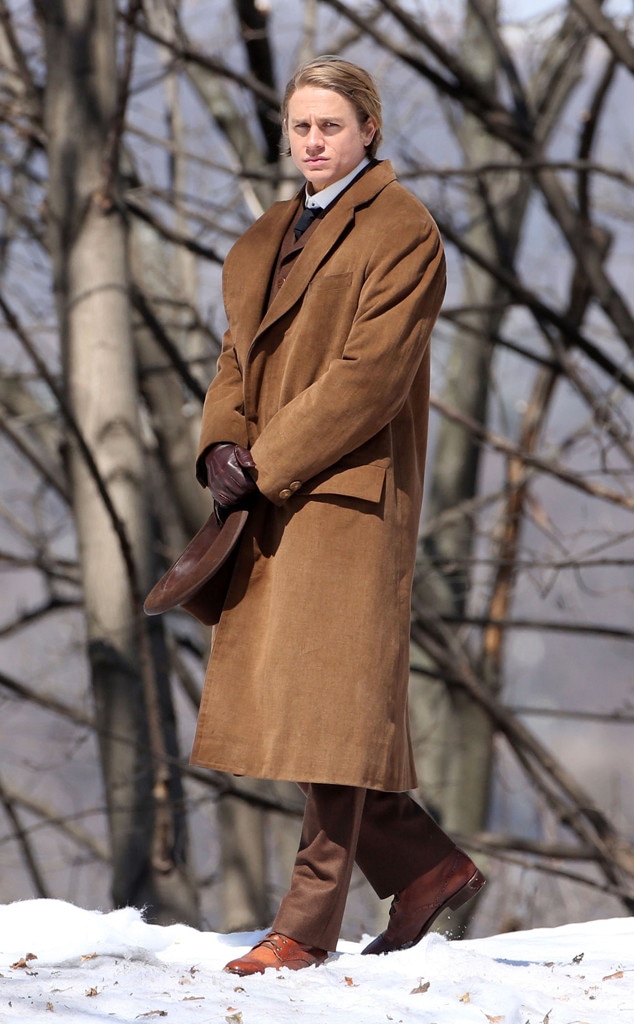 O'Neill/Todd G, PacificCoastNews
Well, this seems a little sad, but don't worry—it wasn't!
Hollywood hunk Charlie Hunnam spent his 34th birthday filming for his upcoming movie Crimson Peak in Canada, but the best part? They spent the entire day shooting a funeral scene (womp, womp), a source tells E! News. However, Hunnam fans made sure to add some fun and cheer to the actor's special day.
A number of fans arrived to the Ontario set with birthday cards and gifts. Charlie, who shot from 7 a.m. to 7 p.m. with only a 30-minute lunch break, made sure to interact with everyone that came by.
In fact, the insider tells us that the handsome Sons of Anarchy star was amazing with fans and stopped to chat with everyone.
Charlie also seemed very cool on set, laughing and chatting with everyone. His mood was great and, according to our source, Hunnam said his birthday plans was just to be working all day and said he loved it. Aw!
Being that he's shooting the Guillermo del Toro, Charlie is flaunting a new look. The studly FX star got rid of his signature full beard over weekend and emerged on Sunday with a smooth, shaven face while grocery shopping in Toronto.
This unexpected change is a shock for the actor, who normally sports major scruff to play the role of Jax Teller on the popular series. However, his sexy appearance definitely had a positive effect on the female fans, who flocked around him as he left the store over the weekend.
But then again, that would happen regardless of his facial hair.
—Reporting by Michelle Falls