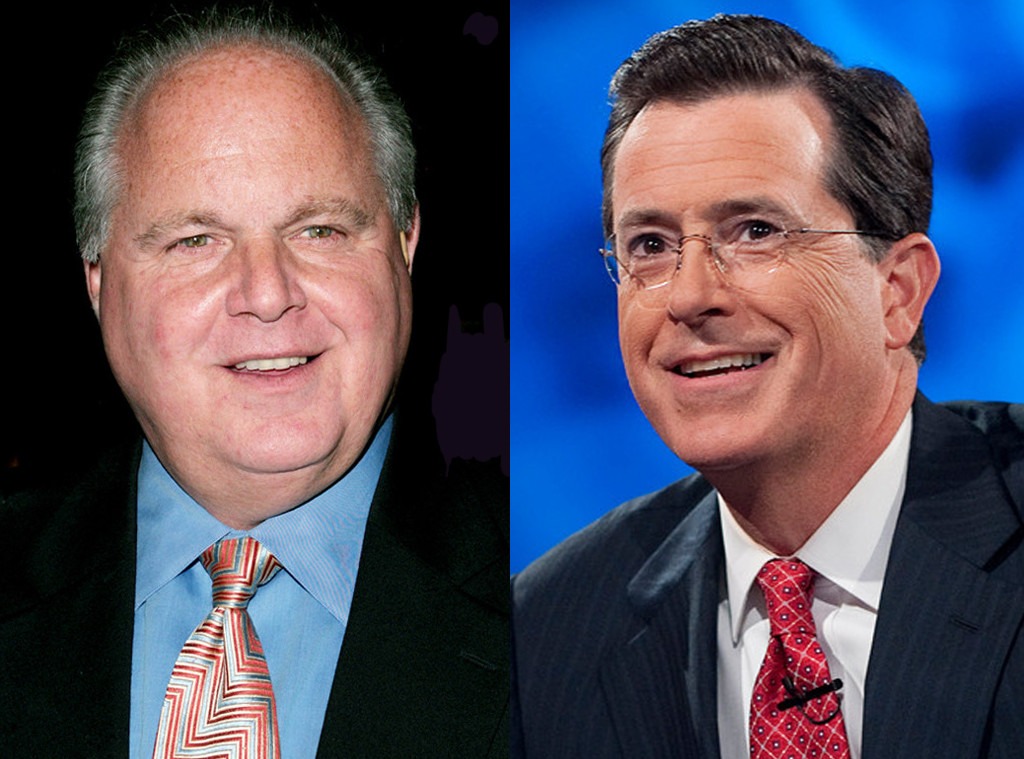 Gary He/AP Photo, Comedy Central
Perhaps Rush Limbaugh was pulling for "Papa Bear" Bill O'Reilly.
On his show today, the conservative radio host slammed CBS for picking Stephen Colbert to replace outgoing Late Show host David Letterman, charging that the network "has just declared war on the heartland of America."
The character "Stephen Colbert" would probably 100-percent agree with that, but actual Colbert and those who are super-psyched that he'll be taking over Letterman's chair next year would have to beg to differ.
To be fair, Limbaugh was responding to a caller who wanted to know what he thought about the impending change-up.
"You really care what I think about that?" he wondered before launching into exactly what he thought about that. (And he pronounced Colbert with the hard t.)
"No longer is comedy going to be a covert assault on traditional American values, conservatives—now it's just wide out in the open," Limbaugh complained.
"What this hire means is a redefinition of what is funny and a redefinition of what is comedy, and they're blowing up the 11:30 format under the guise that the world's changing and people don't want the kind of comedy that Carson gave us, or even Letterman. They don't want that anymore. It's media planting a flag here...It's a declaration. There's no unity in this hire."
Well, Colbert's ascension was announced surprisingly quickly. CBS couldn't possibly have had time to poll everybody.
"They've hired a partisan so-called comedian to run a comedy show," Limbaugh continued, "so, that's what I think. Cool? Satisfied? Good."
 No pressure, but we're expecting a lot of comedy, partisan and nonpartisan, from the host of The Colbert Report tonight.
He got us all revved up by tweeting a couple of hours ago, "Let's see...what to tweet about, what to tweet about? I got nothing. What's new with you?"