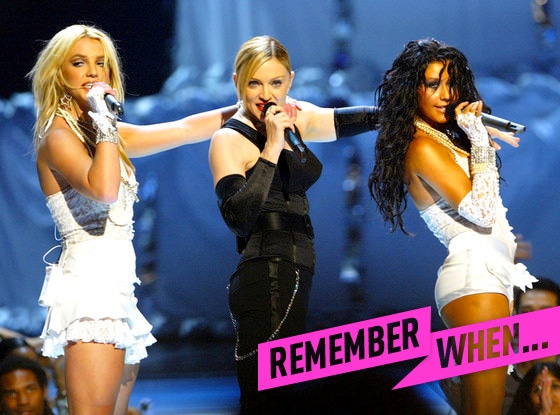 WireImage
"Remember When..." is a weekly feature every (#Throwback)Thursday where we look back on a moment that changed the world of pop culture forever. Come for the nostalgia, stay for the reminder that you are getting SO OLD.
What Happened: The date was Aug. 28, 2003. This year's MTV Video Music Awards opened with the reigning princess of pop, Britney Spears and Christina Aguilera, dueting to Queen Madonna's "Like a Virgin."
Brit-Brit and Xtina rolled around in skanky wedding dresses—just like the original Material Girl did in 1984! Christina looked hella tan. Britney looked flawless. Then Madonna popped out of a giant wedding cake wearing a tux and performed her new single, "Hollywood."
In the middle of it all, Madonna brushed a piece of hair from Britney's face and kissed her.
What Else Was Happening: Actual married couple Carmen Electra and Dave Navarro hosted a VMA pre-show together. Seventeen-year-olds Mary-Kate and Ashley Olsen presented an award with the star of Joe Dirt, David Spade. Missy Elliott's "Work It" won Video of the Year, while Justin Timberlake's "Cry Me a River" video, an (alleged) middle finger to his breakup with Britney, won Best Male Video. 
But really, after the kiss, nothing else happened, because nothing else mattered.
How We Remember It
Jenna Mullins, E! Loves Editor: "I was fully in my Britney Spears obsession phase at this time, like so much so that I downloaded the version of this song to hear Britney's part whenever I wanted. I didn't really care about Madonna; I was there for Britney. The kiss was certainly shocking, but I was used to Britney doing crazy s--t by then.
"I was actually more interested in how Justin Timberlake would react, seeing as those two had broken up and destroyed the notion of true love forever. Thankfully, the moment Madonna's tongue touched Britney's, the cameraman was up in J.T.'s face, and his reaction was priceless. He tried to look stoic and unaffected. But we saw it. We all saw it. J.T. was not amused.
"I also remember that, because of the quick cut to Justin, the kiss between Madonna and Christina—'scuse me, Xtina—was barely shown in the original airing. I didn't even knew they also kissed until I saw pictures later. The pro-Britney/anti-Christina in me found some twisted pleasure in the fact that everybody was talking about Britney."
John Boone, E! Loves Editor: "Maybe it was my personal bias because I was obsessed (like, posters on the walls, fake sick at school to go home and watch Making the Video: Stronger obsessed) with Britney, or maybe I was just a little slow or something, but I never thought anything that Britney did was a 'big deal' until afterwards, when other people would tell me how 'big of a deal' it was.
"As far as controversial things Britney did at the VMAs, I actually always think of when she sang 'I Can't Get No Satisfaction' and 'Oops!...I Did It Again' and stripped from that bedazzled suit into a nude-colored sequin jumpsuit first. I very vividly remember that right after those VMAs, we switched to the evening news and a disapproving anchor said, and this is a direct quote, 'At least when Elvis shook his hips, they were covered.' Afterward, I remember my mom agreeing and telling me, 'I did think it was very inappropriate.'
"I don't think my mom cared much when this happened. And I do remember this happening, but I remember Britney dancing on top of the cake in the veil and the 'Boy Toy' belt buckle better than the kiss? And that she had the fake mole! I think I really just liked the costumes."