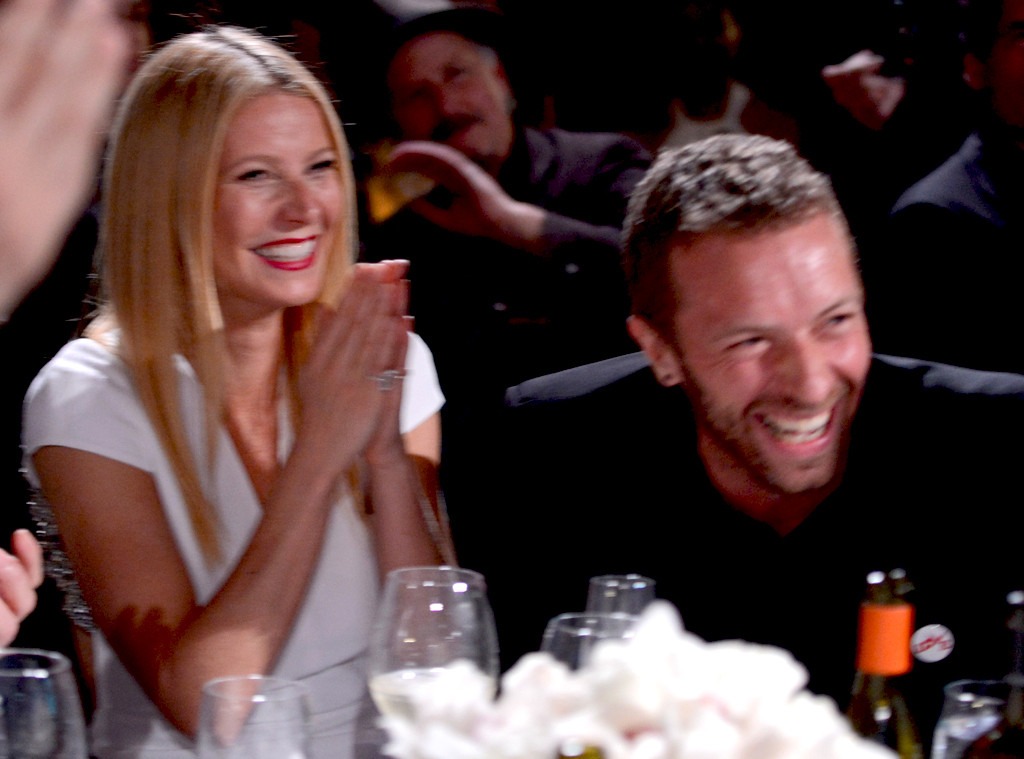 Kevin Mazur/Getty Images for J/P Haitian Relief Organization
Consciously uncoupled? Not so fast. 
While Gwyneth Paltrow and Chris Martin announced their separation just over two weeks ago via a statement on the Oscar-winner's posh lifestyle website, E! News has learned that the pair are getting along better than ever and are still very much coupled up.
"They are getting on so well together, and still spending a lot of time together," a source tells E! News of the former lovebirds, who split after more than 10 years of marriage. "It's kind of like the separation was never announced, you wouldn't even know that they are a couple that are going their separate ways."
Xposure/AKM-GSI; Theo Wargo/Getty Images
Paltrow was most recently spotted still wearing her wedding ring while out and about Los Angeles following the pair's family vacation, during which the amicable exes enjoyed some quiet time away from the media spotlight in the Bahamas with their two children Apple and Moses.
"They have been spending some nights together still and are both still living at the same house in LA," the source continued. "It's kind of crazy how amicable this whole thing is. It's really interesting to spend time with them because there is no awkwardness at all. It's the oddest thing, they are acting as if they are still together."
After deciding to consciously uncouple, another source told E! News that the duo rediscovered their love.
"It's been a long and very sentimental year," the source told E! News exclusively following their announcement. "Thinking about going in different directions actually brought out the best in them. They discovered a lot of their love again."
"There's still a lot of love between them," the insider continued. "Just last week, Chris walked into the room and was telling Gwyneth how beautiful she looked. He's very sweet and loving to her. That's the confusing and surprising part about their marriage. You can truly tell they love one another. Their lives are just going in different directions. They will continue to do family stuff together, but they both want to be out in the world and be single."
In the separation announcement the two vowed to remain in each other's lives, "We have come to the conclusion that while we love each other very much we will remain separate," the exes wrote. "We are, however, and always will be a family, and in many ways we are closer than we have ever been."
Which is a seemingly heartfelt statement, as evidenced by a recent sighting of the couple at Robert Downey Jr.'s 49th birthday, held at the actor's home on Sunday, People reports.
"They were lovey-dovey and playful," a source told People. "They were with the kids, they held hands and laughed and joked as a family. It was not the typical picture of a divorce. If the reports had not come out you would think, 'Wow, they are a perfect couple.'"
Not only did the duo put on a united front, but their lovey-dovey appearance also sparked rumors that they may rekindle their romance.
"Nobody knew what was going on with the them. It was like a shock," the source said. "It felt like they have a genuine love for each other, to the point where I wouldn't be surprised if a report came out in a couple of weeks that they are back together."
Paltrow was last seen leaving the famous Chateau Marmont solo on Wednesday, while Martin was traveling to the East Coast in anticipation of tonight's 29th Annual Rock and Roll Hall of Fame Induction Ceremony at Barclays Center in Brooklyn.