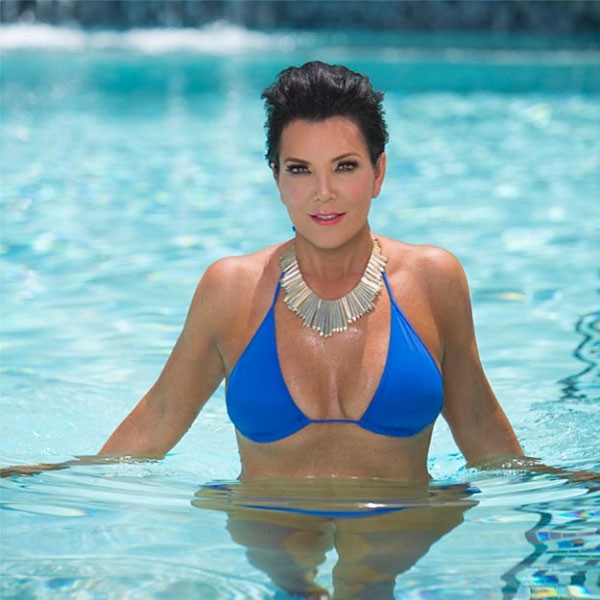 Instagram
E! News already debunked the rumor that Kris Jenner was planning to follow in daughter Kim Kardashian's footsteps by posing for Playboy, and the Keeping Up the Kardashians star decided to deny the report herself during a Thursday radio interview with KIIS FM's Kyle and Jackie O Show. Asked if she would strip down for the iconic men's magazine, Jenner laughed and replied, "Oh my God, no!"
Jenner, 58, added, "I don't think anybody wants to see me without any clothes on."
The co-hosts noted that the momager is in great shape. "God knows I try," Jenner said. "The older you get, the harder it is. I love to work out and love to feel like I'm in shape and I like to feel good about myself. Last summer I posted those bikini photos because I thought it was so inspirational for someone in their fifties to have some motivation and say, 'Wow, anybody can try to put a bathing-suit on.'"
Jenner, who called the Australia radio show from California, also dished on her daughters' love lives.
Asked if Khloé Kardashian and Lamar Odom might reconcile, the savvy businesswoman replied, "Khloé and Lamar are still apart. There's not really any change there that I know about or can report." According to Jenner, her single 29-year-old daughter is "just hanging in there and doing her best."
The former daytime talk show host added that she has "not" seen Kim's wedding dress yet. "I am really looking forward to that day. I have not seen it. It's gonna be so exciting. I haven't seen a thing."
Pressed for further details about Kim and Kanye West's upcoming wedding, Jenner said, "I don't know about a plan. I said, 'Let me do this, let's do that, and I'd love to give you a party,' and she said, 'Mom, we just want to have it be a big surprise and we want you and everyone else to relax. You worked so hard the last time that we're really excited to show you how it's done in one of the cities we live in.'"