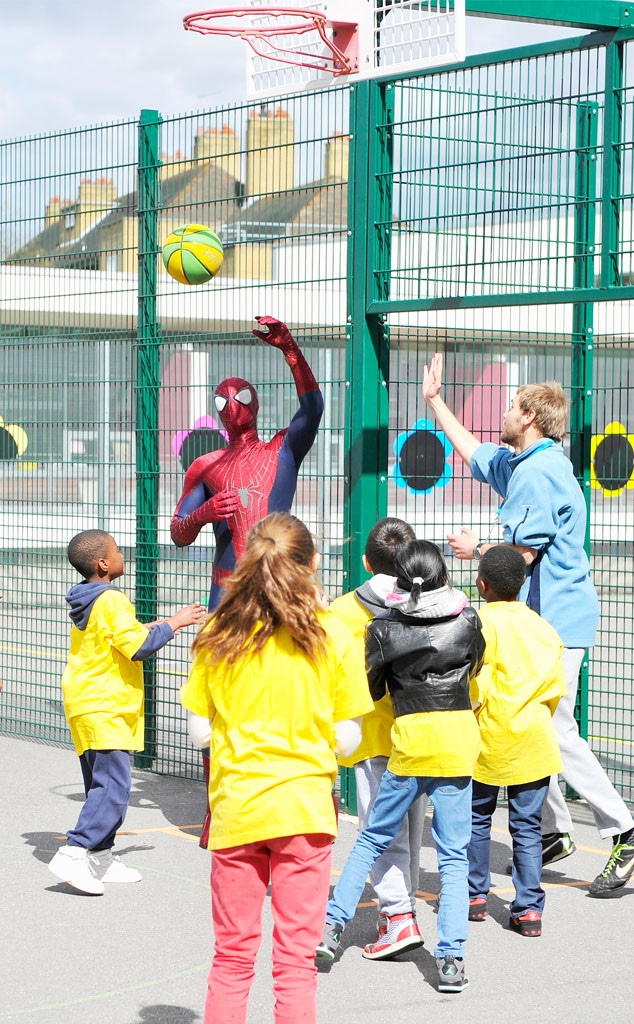 Gareth Cattermole/Getty Images for Son
In addition to saving everyone from a bunch of scary bad guys, we can add basketball pro to Spider-Man's long list of impressive talents.
Andrew Garfield, who plays the comic book superhero character, donned his blue and red costume to play a fun-filled game with a bunch of kids from a local charity in the London borough of Lambeth Wednesday afternoon.
And in case you're wondering, the 30-year-old actor didn't use his webs or wall-climbing powers to gain any sort of advantage against the adorable youngsters.
Gareth Cattermole/Getty Images for Son
Garfield showed a lot of team spirit on the court and gave his young fans some hugs and encouragement. He was also treated to a tour of the grounds and took off his trademark ensemble to enjoy some pizza with the group.
The kids are part of a Brixton-based organization, called Kid City, which provides out of school activities for children aged 3 to 11.
Gareth Cattermole/Getty Images for Sony
Before slipping into his Spider-Man suit for a good cause, Garfield attended a photocall with his on-screen and off-screen love Emma Stone.
Next up for the cute duo and The Amazing Spider-Man 2 co-stars: the action flick's premiere in Leicester Square on Thursday evening.