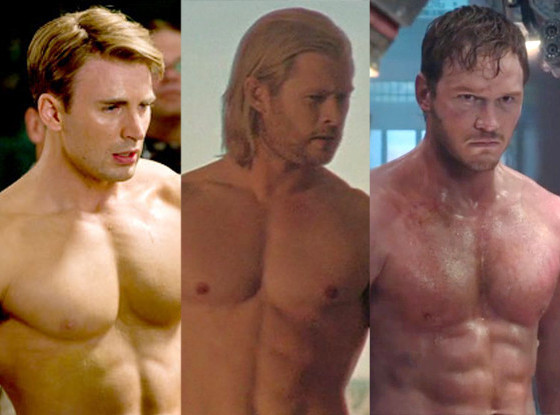 Marvel Entertainment
Praise be to the holy trinity of Marvel: Chris Evans, Chris Hemsworth and Chris Pratt.
Are we supposed to believe that it's purely coincidence that the three hottest superheroes in the MCU just happen to be named Chris? Please. Marvel needs to get their hands on more Chrises and transform them into some cut-up, beefcake super-studs. Start your search here, Marvel casting department:
Chris Pine
What You Know Him From: Star Trek, Star Trek Into Darkness, that movie with Denzel Washington where they're on an unstoppable train (it may have been called Unstoppable), not Jack Ryan: Shadow Recruit
Who He Could Play: The new Hawkeye, once Jeremy Renner ages out of the role (which will be sooner than you think, let's get real with each other). He will show off more than just his arms. He will also show off his abs.
Chris Messina
What You Know Him From: Danny on The Mindy Project; oh!-he's-that-one-guy! from Argo, Julie & Julia, etc.
Who He Could Play: Daredevil. We've seen Chris shirtless (and pantless, Google it) and we think he's got what the role requires. Oh, and he already has a New York accent. So, not as important, but kind of handy?
Chris Zylka
What You Know Him From: Piranha 3DD, Shark Night 3D, any movie that came out post-2010 with 3-D in the title
What You Could Know Him As: Namor, who is basically Marvel's version of Aquaman. Shirtless the entire movie. We think that's the only requirement here.
What You Know Him From: Law & Order: SVU; your mom thinks he's hot
What You Could Know Him As: The Sentry. He starts as a middle-aged, out-of-shape regular Joe (so this one would require Meloni get out of shape first) and then—boom, Rocky montage—whips himself into shape (for the gratuitous shirtless scene).
Chris Lowell
Byron Purvis/AdMedia/Sipa USA
What You Know Him From: Piz on Veronica Mars (DAMN YOU, PIZ); The Help
What You Could Know Him As: Jack of Heart. He's kind of goofy superhero, and Chris Lowell is kind of a goofy guy. But even goofy superheroes need to be hot. And, if you saw the Mars movie, you know Piz looks good in a wet T-shirt.
Chris Diamantopoulos
Jemal Countess/Getty Images
What You Know Him From: Brian the hot sound guy from the last season of The Office
What You Could Know Him As: Doctor Strange. Who should be getting a movie any minute now (he even got a shout-out in Captain America: The Winter Soldier). Casting rumors suggest a big name, like Jon Hamm or Johnny Depp, but this Chris is very handsome. Soooooo...worth reconsidering...
What You Know Him From: The Letters to Juliet movie poster? Nothing?
What You Could Know Him As: Namor (that's Aquaman. Again. These two Chrises are basically interchangeable.)
Chris Gorham
What You Know Him From: Henry from Ugly Betty, that Alias show on USA, Once Upon a Time
What You Could Know Him As: Noh-Varr. We're running out of eligible superheroes. This one has super-speed and advanced alien knowledge, but, more importantly, wears a costume so tight that it shows off his six pack even when fully clothed. Works for us.
Chris O'Donnell
What You Know Him From: Batman & Robin (the one with the nipples)
What You Could Know Him As: Doesn't matter. Just give his costume nipples, please.