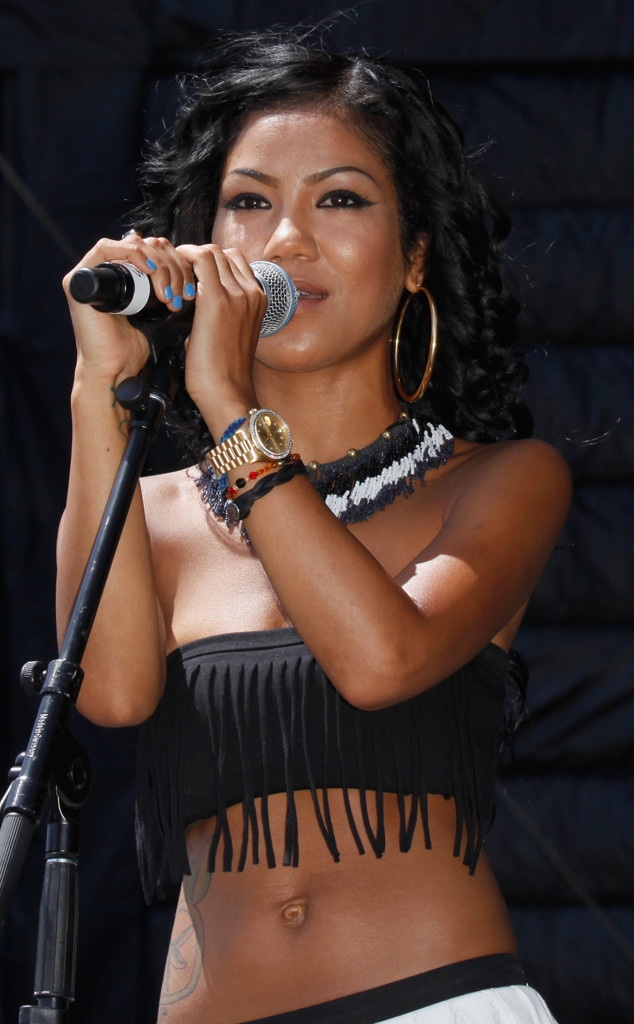 Chris Weeks/Getty Images for Moet Rose
Originally from Los Angeles, 26-year-old singer-songwriter Jhené Aiko is gearing up for her first Coachella performance since releasing her debut album.  
The R&B songstress, whose voice has an ethereal quality, created a buzz when she popped up on tracks with Drake, Kanye West, Big Sean and more in recent years, which continued even further when she dropped her debut LP, Sail Out in November 2013.
Described as a mix between a young Sade and a female Frank Ocean, Aiko is taking the R&B world by storm with her poetic lyrics and mellow, soulful voice.
Take a peek at the five things to know about Jhené Aiko before she hits the stage at Coachella Sunday!
1. She started her career known as "Lil Fizz's Cousin": Aiko was first introduced to the world via her appearances in B2K's music videos as group member Lil Fizz's cousin. They aren't actually related, but he was in a group with her oldest brother when she was seven, and they grew up together like family.  She was 13 when she was signed to Epic Records, she told Complex, adding that it was a "piggy back deal" that was "thrown on me" because of her affiliation with B2K. From there, she recorded over two hundred songs, was marketed as "Lil' Fizz's cousin" to try to launch her career, and served as B2K's opening act during their Scream Tour 3. "I was in school and it was this random opportunity," Aiko went on. "They were willing to give me a deal along with the B2K deal and of course as a 13 year old, you agree."
2. She's a mom: After getting pregnant by her ex-boyfriend, Omarion's R&B singer brother O'Ryan Omir Browner, she gave birth to their daughter Namiko on November 19, 2008 at the age of 20. "She gave me the focus, the drive and the urgency to get something done," she told Complex. "I have always been about getting work done but with a child, something needs to happen and she just put more passion as far as what I wanted to do with my music, what I wanted to sing about and my message."
3. The last few years have been big for Jhene: She released her comeback mixtape, Sailing Soul(s), in 2011, which featured collaborations with Drake, Kanye West and Gucci Mane, and went certified gold. Then, in 2012, she signed with Def Jam-ARTium Records and released the single, "3:16AM." The songstress went on to tour with Nas and Lauryn Hill that year on their "Life Is Good/Black Rage" Tour. And 2013 proved to be even bigger. After getting featured on Big Sean's "Beware" and Drake's "From Time," she later released her debut EP in November 2013, Sail Out, which debuted #1 on the R&B charts.
4. Music runs in her family: "My family is very supportive because there's a lot of people in my family that do music," she told Boombox.com. "I grew up in a household where my dad always wanted to be a songwriter and a singer, my sisters were in a group and my brother was singing, and so they're all supportive."
Her older sisters Miyoko and Jamila were in the R&B group Gyrl and toured with Immature. Sadly, in July 2012, Her 26-year-old brother Miyagi passed away after a 2-year battle with brain cancer. On the day of his death, she played a touching tribute she penned for him called "For My Brother," according to Rap-up.com. "It was really special for me and I'm just glad that he got to hear it," she told the site.
Chris Weeks/Getty Images for Moet Rose
5. Tupac is one of her biggest influences: "He's an icon for speaking your mind and being you even if it's controversial," she told Rap-up.com. "He's been a big inspiration for me just to stick to who I am and to actually stand for something through music." Aiko has also been inspired by her own family, Brandy and even John Mayer. "Even as a six-year-old, I knew I loved [Brandy's] voice," she told Teen Vogue. "As I got older and really fell in love with songwriting, John Mayer became one of my biggest inspirations. I can listen to him all day because I love how he tells his stories and the way he uses his words. People never expect that until I tell them—then it's like, 'Oh! I can see that.' I would love to do a collaboration with him."