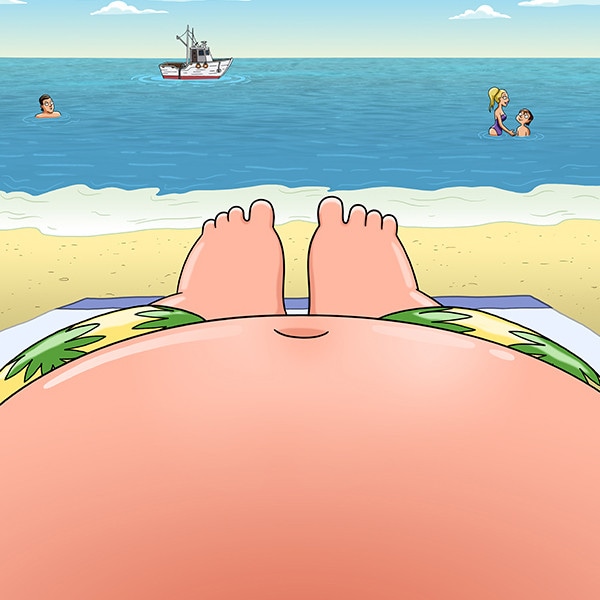 FOX
#EvilMonkey!
We all know that Family Guy's Peter Griffin (Seth MacFarlane) says some of the most vulgar and unfiltered one-liners on television (and that's why we love him!) But can you imagine what would happen if Quahog's best delinquent got his hands on his very own Instagram account?
Well, wonder no more! To celebrate the launch of series' highly anticipated mobile game, Family Guy: The Quest for Stuff, the geniuses at Fox are giving fans a deeper peek into the world of Quahog through Peter's eyes.
To help start your week off with a laugh, we've snagged you four exclusive photos straight from Peter's real Instagram account @peterpumpkineater69. And in case you were wondering, here's Peter's eloquent caption for the picture above: "Your life stinks.  #bikinibridge #morningtequila #throwupburps." You stay classy, Peter Griffin!
And for this gorgeous show of Lois? Peter writes: "Happy anniversary to my wonderful wife! #uglysleeper #latergram"
Now back to the goods. Here's everything you need to know about the hot new game that will be launching on April 10: "After another epic battle with the giant chicken, Peter Griffin has accidentally destroyed Quahog! Rally your favorite Family Guy characters (even Meg) and save the city in this hilarious FREE new adventure created in collaboration with the writers of Family Guy. Or don't, and regret it forever!" 
Scroll down to see some of Peter's other Instagram masterpieces and check out Family Guy: The Quest for Stuff  for both iOS and Android on April 10.
Peter's Caption: Just saw these two kiss on the lips. #weirddad
Peter's Caption: Look at this idiot. #loser