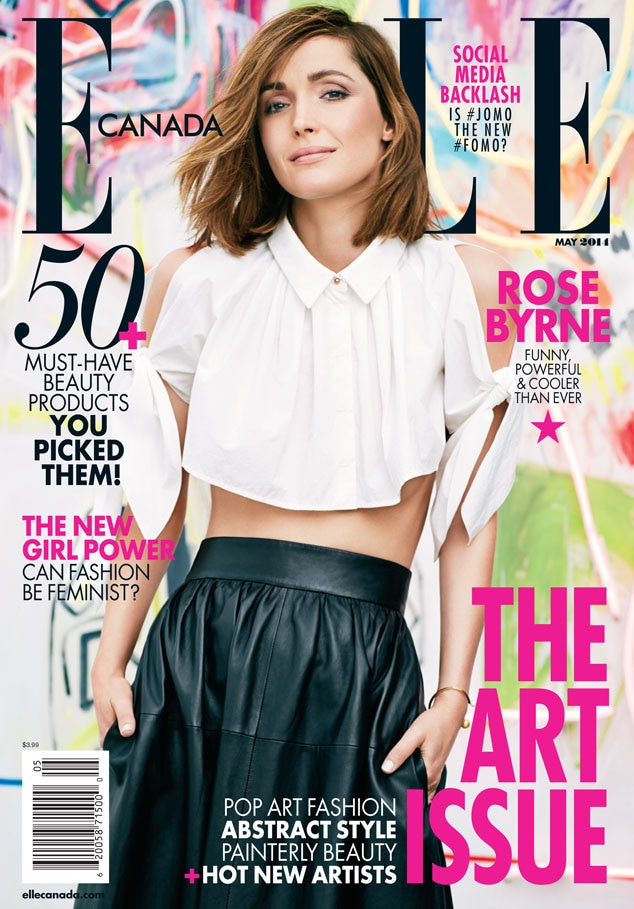 Colette De Barros/Elle Canada
Even though Rose Byrne and Bobby Cannavale have been dating for several years, the actress has remained relatively tight-lipped about her relationship.
The Australian actress, who stars with her longtime beau in the upcoming film Annie, covers the May issue of Elle Canada and opens up to the magazine about life with the Boardwalk Empire actor.
"I'm not a good cook, but seeing someone enjoy what you've made is so satisfying," the 34-year-old reveals about her perfect Saturday evening and whipping up a special meal for her man.
Colette De Barros/Elle Canada
But that doesn't mean amorous gestures come easy for the Bridesmaids starlet.
"To be honest, I'm not naturally that much of a romantic person—Australians don't like making a fuss," the brunette beauty admits with a sigh. "I have trouble with things that feel very manufactured, like Valentine's Day. I'm trying to get better at romance."
Colette De Barros/Elle Canada
You might say Cannavale is the opposite; he memorably called Byrne "the love of my life" as he accepted his Emmy Award last September.
Colette De Barros/Elle Canada
The handsome duo will be seen together in the highly anticipated family-friendly remake, alongside Jamie Foxx as the Daddy Warbucks-esque Benjamin Stacks, Cameron Diaz as Miss Hannigan and Quvenzhané Wallis as the rambunctious titular character. Even though the couple was snapped sharing some sweet moments on the New York city set, Byrne admitted she was "initially nervous" to work together.
Colette De Barros/Elle Canada
"Clearly, it could have not been a good idea, but it was very fun to have a really great friend on set," Byrne said. "It was nice to share our day."
The film is set to hit theaters on Christmas Day 2014.