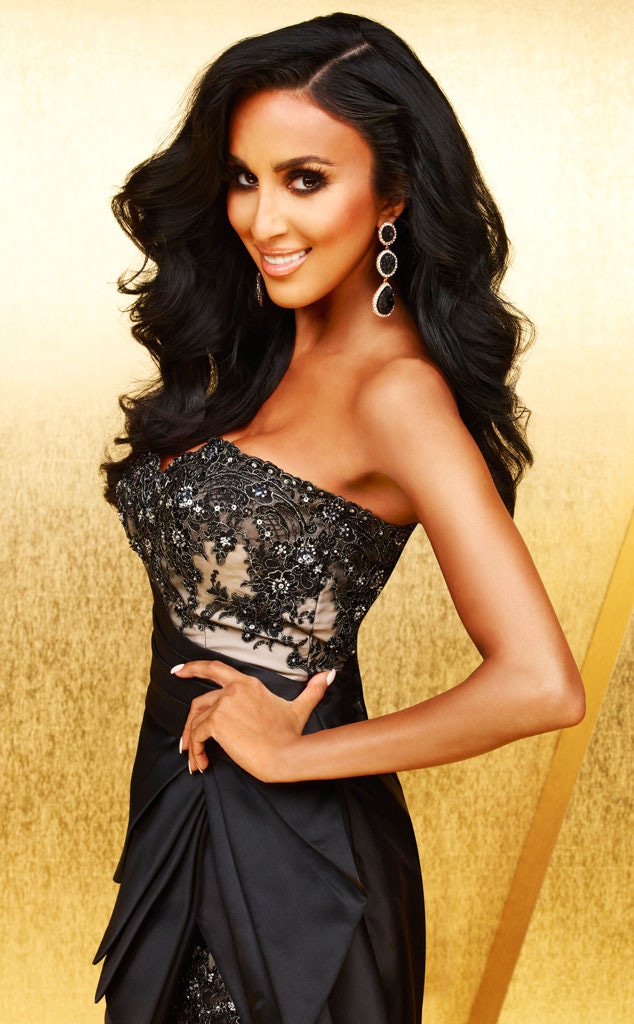 Andrew Eccles/Bravo
Surprise! Lilly Ghalichi is getting married after all!
The Shahs of Sunset star had some fun on April Fools' Day by sharing a collage of pictures—including one that featured a huge diamond ring—on her Instagram account. "Engaged!!!!!!!!!!" she wrote.
The 30-year-old Bravolebrity shared a second picture on the social networking site (which has since been deleted) and told her followers, "For those of you that think it's an April fools joke, so did I at first when he got on one knee!! That was his whole plan, he's so funny, romantic and crazy like that."
Given the timing, some of Ghalichi's fans wondered if she was indeed telling the truth.
So what's the real story? Is she really engaged to 29-year-old entrepreneur Dhar Mann?
"My boyfriend, Dhar, actually proposed to me two weeks ago when we were on vacation in the Maldives," Ghalichi tells E! News exclusively. "He rented this tiny island for us to have dinner at. There was a chef and a waiter and the only thing on this island is a little table for two. It was super romantic. He proposed to me there, but he didn't have a ring. I was like, 'Then it doesn't count. I want a ring.'"
"We didn't tell anyone else about the proposal," she adds. "We just kept it to ourselves."
In fact, Ghalichi says it was Mann's idea to "tell everyone were we're getting married" on Instagram. "We posted our 'engagement' news with an old photo of me wearing this diamond ring I had borrowed while doing press in New York City a few months ago. It's a 12-carat ring I wore on Watch What Happens Live and Wendy Williams and it's just stunning. It was valued at around $750,000 and I had to have two bodyguards with me when I wore it.
"So everyone, including me, thought the whole thing was an April Fools' joke but then, with about two minutes left on Apr. 1, Dhar gets down on one knee and proposes again in his apartment," she recalls. "I'm laughing but he was like, 'No, I mean it. And this time, I got you the ring you wanted.'"
"The original ring I had worn had already been sold to another customer, but he went back to the dealer and had him make me an identical one—this time with a better quality diamond. The shape and setting is the same, but the diamond is better," she vows. "It wasn't ready yet, so Dhar had them take a video of it to show me. That's the video we posted. That's the ring I'm getting. It's supposed to arrive Tuesday or Wednesday. So what started out as an engagement joke turned into a real engagement. It's confusing, I know! But no one knew he had actually proposed to me for the first time weeks ago."
Ghalichi, a blogger and businesswoman in her own right, isn't sure she wants to keep the bling.
"The only thing is, now I'm not sure that's the ring I want! It's so big—where am I going to wear something like that?" she wonders. "After it arrives, I have seven days to decide if I want to keep it."
Ghalichi and Mann have known each other since June 2013, but the future spouses didn't begin dating until January 2014. In fact, the couple will celebrate their two-month anniversary this Sunday.
The engagement may seem fast, the bride-to-be admits, but she has faith she'll make it down the aisle.
To the haters, Ghalichi tells E! News, "I'm not worried. When you know, you know. On our first date, he looked at me and told me we're going to get married. I thought he was crazy, but he was right!"
Congratulations to the happy couple!
(E! and Shahs of Sunset are both part of the NBCUniversal family.)