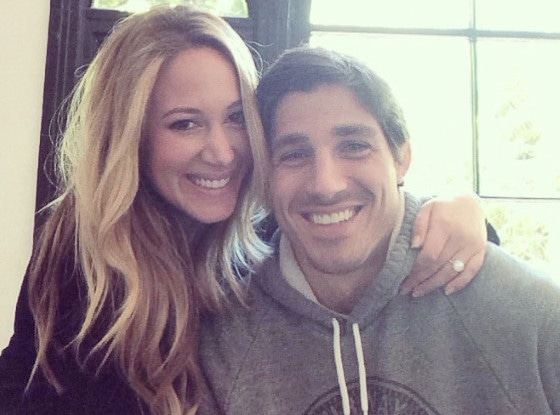 Instagram
Haylie Duff is engaged!
The 29-year-old revealed the good news on her website today and shared an adorable picture of herself snuggling up to her fiancé Matt Rosenberg.
She also showed off her stunning diamond sparkler!
Duff wrote, "This week has seriously just become the best week of my life! As if announcing The Real Girl's Kitchen tv show wasn't enough, Matt just took me by total surprise and proposed…on April Fool's Day of all days! The moment was genuine and sweet (like him!) and I couldn't wait to say yes!"
She added, "We are so excited and happy to share our wonderful news with everyone! We both feel so blessed to have the love and support of our family and friends and can't wait to start this new adventure!"
Hilary Duff's older sis signed off on her post, writing, "Cheers! Love, the future Mrs. Rosenberg." All together now: awww!
Hilary also took to Twitter to give a shout-out to her sister, saying, "So happy to not have to keep this news in!! My beautiful sister @HaylieDuff and her amazing boyfriend @Matt_STS are engaged!!!!"
Rosenberg posted a too-cute-for-words pic of him with his arms around his leading lady on Instagram.
He captioned the sweet shot, "She said Yes!"
The bride-to-be previously dated Nick Zano for three years until their split in 2011.