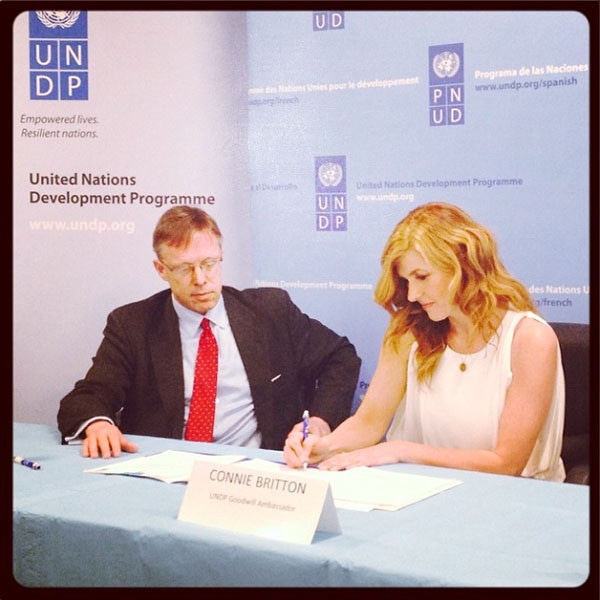 Instagram
"Clear eyes, full hearts, can't lose!" is a motto Connie Britton swears by.
The Friday Night Lights alum has been named a goodwill ambassador for the United Nations Development Program. The announcement was made Wednesday, the same day the Britton joined Instagram. Not coincidentally, the 47-year-old Nashville star shared two pictures from her induction ceremony, writing, "Making it official! @undp_ Goodwill Ambassador #endpoverty #connie4undp."
Britton called her appointment as goodwill ambassador "one of the greatest opportunities of my life."
The actress said she plans to focus on poverty eradication, emphasizing on women's issues. Britton noted that women do 66 percent of the world's work but earn just 10 percent of the world's income.
"In my own travels, I've seen many places where people are living in extreme poverty. It's unacceptable that, in 2014, one billion people live in such conditions, and a full sixty percent of the chronically hungry in the world are women," the single mom said, per CBS News. "I look forward to working with UNDP to help change this and improve the lives of vulnerable people worldwide."
Her Nashville co-star Charles Esten shared his support via Twitter, writing, "Congratulations!" Britton, who just joined the social networking site Monday, replied, "Thanks Chip...I mean @CharlesEsten!"
"We are thrilled to have Connie Britton join UNDP's efforts to fight poverty worldwide," Michael O'Neill, UNDP Director for External Relations, said of making the actress a goodwill ambassador. "Connie is passionately committed to humanitarian causes and she will be a great partner for UNDP, helping us raise awareness of development issues amongst the American and global public."