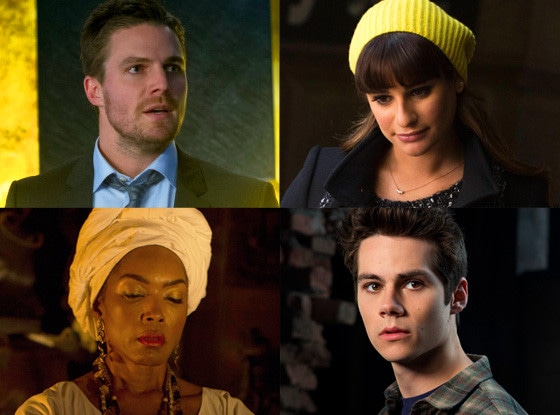 CW; Fox; FX; MTV
Rejoice, the worst day of the year is over!
What better way to celebrate the end of endless April Fools' gags and unfunny jokes than with a round of scoop on your favorite shows? That's exactly what we're giving you in today's Spoiler Chat, no joke! We're dishing out scoop on who will be returning for Glee's final season, Teen Wolf's new troublemaker and the possible return of a Community fan favorite by season's end. Plus, we've got spoilers on Arrow, American Horror Story: Freak Show and more...
Shannon: The Mindy Project's return was everything I wanted and more! But now I am being greedy and want finale scoop, so let's hear it!
Mindy will head to the top of the Empire State Building twice in the episode.That's all we're saying!
Hannah: Still not over the fact that Daniel Sharman won't be returning for Teen Wolf's fourth season! Are you sure he won't appear at all?
Considering that Sharman requested that Isaac not be killed, there's a good chance we'll see those chiseled cheekbones in Beacon Hills again, as Jeff Davis assures, "Whether it's season four or season five, I would say there's a  good possibility of it." Someone you will be seeing in season four? A cocky lacrosse player from a rival school, who will stir up trouble for our gang in episode five.
Beth S.: Got any scoop on Glee? Feel free to share at any time!
A familiar face we'll definitely be seeing next season? NeNe Leakes! "Oh yeah, definitely," the Real Housewives star tells us of returning for the Fox hit's sixth and final season. "I've been there for the last three, so I'll be right there for the last one." Hmm…could Coach Roz be visiting the Big Apple?!
Harrison: So excited for AHS: Freak Show! Any info you can spill on the new season?
Well, we know that Jessica Lange plays the manager of one of the U.S.' last remaining freak shows in Jupiter, Fla., who has "rescued all these different individuals. It's the end of that era, of the freak show, and we'll do anything to keep our business going," Angela Bassett teases of season four's main plotline. So who is she playing? "I don't know that yet," Bassett admits with a laugh. "I don't know if I'll be a Siamese twin or a bearded lady!"
Christos Kalohoridis/The CW
Danielle: Reign is my favorite show on TV right now. Should we expect another death by the end of the season though?
Um, possibly one in every episode. NBD! "No one is safe in this castle," Anna Popplewell teases. "There are deaths almost every week, but I couldn't possibly say who will or won't survive!" As for the finale, the lady-in-waiting says, "It's going to be enormous. There's plenty to look forward to and to fear and dread."
Carson: So worried about Thea in tonight's Arrow! Slade is the worst!
Ugh, right?! But that's what makes him such a good villain. "I will say that Thea learns something pretty massive," boss Marc Guggenheim previews of tonight's outing. "And it will cause a tectonic shift in her relationship with Oliver." Uh-oh, sounds like secret daddy issues will be coming to light soon!
Will: Community is on fire this year, but I miss Troy! Please tell me Donald Glover will at least return for the finale or something?
Funny you should ask, because we asked Dan Harmon the same question (while wearing a Troy and Abed in the Morning T-shirt, obviously). "No, I'll spoil that so you don't sit there and wait for it," the creator spills. "Donald does not come back in season five. He comes back in season six! That's my hope."
GOT TV QUESTIONS? Tweet them to @kristindsantos with hashtag #spoilerchat!
SPOILER CHAT comes out every Monday, Wednesday and Friday at 9 a.m. ET/6 a.m. PT. Bookmark the link!