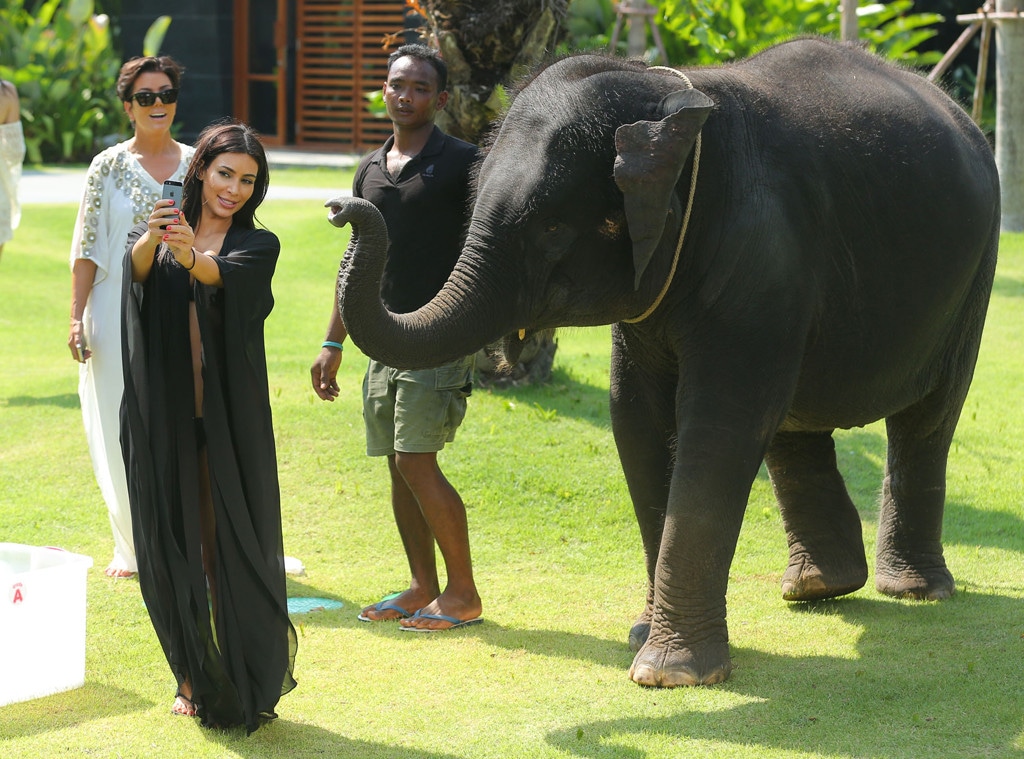 BrianPrahl/Splash News
The Kardashians continue to take Thailand!
Kim Kardashian, who's currently on a tropical vacation with her famous family in Asia, recently got some alone time with an elephant.
The 33-year-old Keeping Up With the Kardashians star, who was showing off her curves and lots of skin in a black bikini and black cover-up, got the chance to get up-close and personal with a friendly elephant. During the meeting, Kim of course snapped some selfies of herself and her four-legged friend before getting a little spooked by the giant creature and running away as mama Kris Jenner watched on.
Maybe she got tickled by the trunk?
During their vacation, the clan also went zip-lining though the jungle. Kim, Khloé Kardashian, Kendall Jenner and Kylie Jenner all suited up in their best workout gear before arriving to the zip-lining spot with Kris and Bruce Jenner.
Before embarking on the high-flying adventure, the girls posed for selfies and photos together while hooked up to the zip-lining gear.
After the sun set, Kendall got some bonding time with her big brother Brody Jenner. Brody shared a sweet video of them casting off floating lanterns into the night sky. "Always wanted to do this.... I love you @kendalljenner," he captioned the pic.
The Kardashian-Jenner fam is certainly enjoying their trip. They recently shared some boating photos during an ocean outing across the crystal clear waters of Thailand.