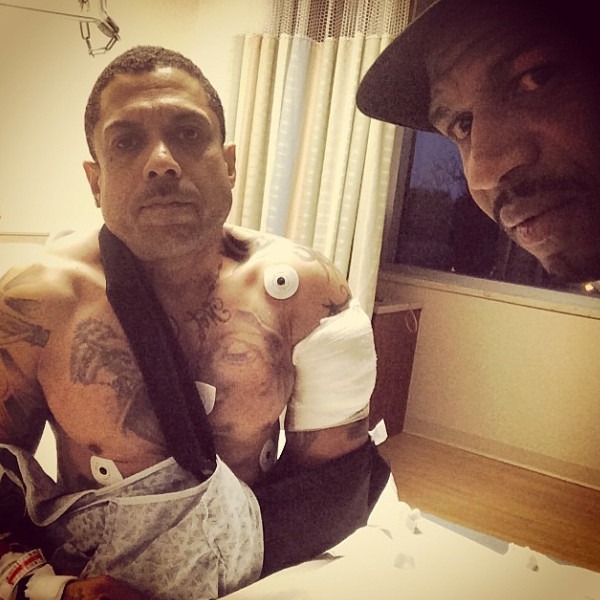 Benzino is no stranger to drama but this is on an entirely different level.
The Love & Hip Hop Atlanta star (real name Raymond Scott) was shot in the shoulder by his nephew, Gai Scott, during a funeral procession for the reality star's mom on Saturday.
The 36-year-old family member pleaded not guilty in Plymouth District Court to armed assault with intent to murder earlier today, claiming that he acted out of self-defense. He was ordered held without bail pending a hearing Wednesday to determine whether he's a danger to society, according to reports.
Meanwhile, the rapper has spoken out about the situation for the first time since it happened.
"My mother was good, my mother wasn't about this," Benzino told Boston's FOX 25 News during an interview from his South Shore Hospital bed. "Once I started getting to the beginning of the procession, gun shots, boom, boom, boom.
"I took a deep breath just to see if it was in my chest, but it wasn't. I didn't feel no pain, so I maneuvered the car jumped out the car and I'm running down the middle of the street to all the other cars in the procession throwing my hands up like I need help," and added, "Blood doesn't mean it's love."
Benzino has been posting photos from the hospital on his Instagram, including pictures with his ladylove Thi Thi. "Feel much better, GOD IS REAL @luvheraltheaheart is my SOULMATE....... MY MOTHER TOUCHED ME, IM CERTAIN," he wrote.
He was also visited by his VH1 co-star Stevie J, who posted a picture of them in the hospital on his Instagram and wrote, "#VH1Boyz#ZinoGrigio#Sleazo#GodIsGood"
The "Rock the Party" rapper did not specify what the dispute was about, but reports claim it has to do with money.